Happenings
#WeekendsatKNMA Ft. Sound Healing Saturday,9th July 2022, 6pm onwards at KNMA, Saket
4 July 2022
Sound has been utilized in various cultures for thousands of years as a tool for healing. Sound healing is an ancient meditative practice that uses different musical implements to create healing vibrations around the body in a meditative state.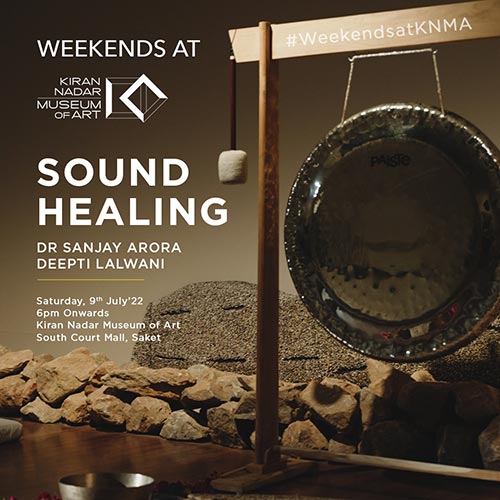 Dr. Sanjay Arora and Deepti Lalwani will lead you through a guided sound healing meditation and sound therapy experience using hung drums, singing bowls, and Gongs at the Kiran Nadar Museum of Art in Saket in an attempt to find inner peace and tranquility.
Light Meal will be provided after the session.
Dr Sanjay Arora
A dental surgeon by profession, Dr Sanjay Arora has had a keen ear for music and percussion since childhood. An avid follower and student of rhythm, drums have always taken his fascination. A multi percussionist, he is adept at playing various percussion instruments such as, Djembe, Cajon, Bongos, Darbuka and Hand pan. Dr Arora has also worked extensively with children with special needs, helping improve their cognitive abilities and to express themselves by way of drumming and drum therapy.
He was introduced to the melodious healing sounds of the hand pan about 3 years ago and from there he embarked on a journey as a hand pan player. Ever since, he has enthralled one and many and continues to do so with his inimitable style and healing melodies on the hand pan.
Deepti Lalwani
A sound healing Trainer, Practitioner, Rebirther and a wonderful Gong Player – Ms. Lalwani holds an experience of over 12 years in the field of wellness where she truly shares what she believes and applies in her own life first. She shares her passion with people & conducts training workshops as well as one-on-one healing sessions and has helped many transforms and rediscover their true essence.
She also believes that Celebration is life and we all must celebrate life in every moment and with this intention of spreading celebration with awareness she co-founded Soul Setu wellness Foundation, a platform for psychological growth & holistic well-being.
Instructions
Eat Light before the session and have a gap of minimum 1 hour in the meal and session.
Wear loose comfortable clothes preferably light color.
Please avoid wearing any accessories like crystals, gold or leather as we won't want their frequency to mingle with the frequencies of the bowls and gongs.
Note: This program has limited seating for 30 people only. All Covid protocols will be followed.
Address: KIRAN NADAR MUSEUM OF ART, SOUTH COURT MALL, SAKET, DELHI