NGO
Working from Memory
An Introduction to Storytelling and Photo-book Making
Facilitated by Chandan Gomes
29 - 30 November 2021, 4:00 – 7:00 pm
Part of the Methods Series
Register Now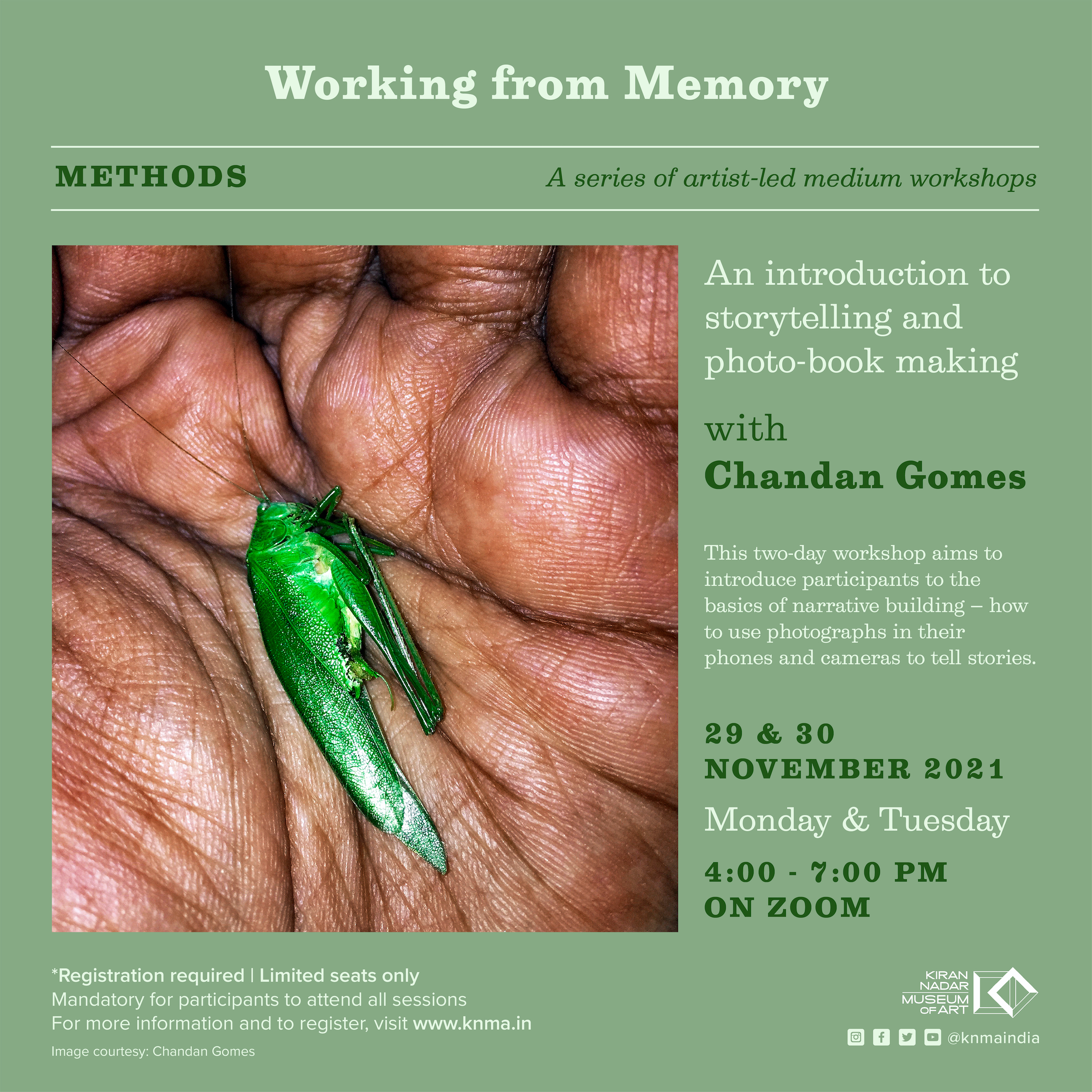 In this day and age when photography has become so accessible due to powerful cameras on our phones and digital sharing platforms like WhatsApp, Instagram etc. How does one tell stories amidst this surge of data and information?
This two-day workshop aims to introduce participants to the basics of narrative building – how to use photographs in their phones and cameras to tell stories. These photographs need not be from any particular project or documentation, but can be snippets from one's daily life or travels. In the workshop participants will also be introduced to the basics of bookmaking where they'll be working towards creating simple book objects and playing with photographs which otherwise would have remained lost in their computers and phones.
The workshop is open to all participants who are 18 years and above. Interested participants are expected to commit their presence on all days. The sessions will take place on Zoom.
Registered participants are expected to be present on Day 1 of the workshop with a selection of 15-20 digital images (.JPEG) of not more than 5 MB each. To ease the process there are three themes the participant can choose from, but they are not binding and the subject matter can vary.
Themes:
My city and how I relate/connect to it.
Self-Portraiture but No Selfies.
Biographical photographs of a close family member or a friend.
The workshop will be taught through a combination of open but structured conversations, screening of works, readings and demonstrations.
Chandan Gomes has studied Philosophy at St. Stephen's College, Delhi. Emotional and intellectual anxieties drive him as an artist. He has taught at Sri Aurobindo Centre for Arts & Communications, Delhi, National Institute of Design, Gandhinagar and Ashoka University, Haryana. He is currently working on his first film and dreams of opening a stationery shop one day. He has won numerous awards and fellowships and has been exhibited widely – Les Recontres d'Arles, France (2018, supported by PHOTOINK), Kochi Muziris Biennale (2018-19), Foto Fest Biennale, Houston (2018), Serendipity Arts Festival (2018), Asia House, London (2018), Zeytiburnu International Photography Festival, Istanbul (2018) and Benaki Museum, Athens (2016), amongst other places. His most recent exhibitions were held at MMAG Foundation, Amman (2020), Landskrona Museum (2019) and Rubenstein Arts Centre (2019). He was also the artist in residence at Centre for Documentary Studies, Duke University (2019).
Methods: A series of artist led medium workshops organised by KNMA
The force driving at the crux of the segment has been to re-examine the mandate of a medium centric 'workshop' and looks beyond the usual format of craft-hobby workroom sessions. At the heart of each session is a chosen artist with their unique style of expression and fashioned in an actively interactive module of facilitator-participant format. This KNMA series highlights how the paradigmatic shifts in contemporary art making need to be registered at individual levels and not merely as institutional applied skill dissemination. The workshop opens up room for both artists and non-artists as well as keen learners to interact with practitioners from a wide spectrum of styles and media to reimagine the tools and raw material for art making - ranging from drawings, maps, personal memories to printing techniques to textual excerpts to found or broken objects, just to name a few.
Module curators: Neha Tickoo and Madhurima Chaudhuri