World Heritage Day Art Festival
18 May 2022
Designed as an awareness program to promote cultural heritage and diversity, KNMA in collaboration with the Archaeological Survey of India is conducting workshops at historical monuments across five states in the county 5. We are delighted to associate with the Archeological Survey of India in our endeavour to spread Art among children, adults and tourists on 18th April celebrating World Heritage Day giving them more information on the heritage sites through the means of art by this joint collaboration
Heritage is what connects the past with the present and the future through stories and traditions, objects, buildings and places and memories captured and kept over time. Connecting local artisans to the kids and promoting cultural heritage and diversity, these workshops aim to educate them about the traditional folk art and craft techniques weaving heritage, art and culture.
The project aims to educate and inspire local communities and individuals to recognize the value of cultural heritage in their lives. It is to explore and motivate people about their heritage and rich culture through different art forms and help sensitise people to the importance of these archaeological monuments and their history.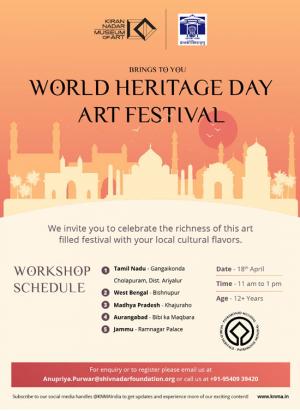 Workshop sites include:
Ramnagar Palace, Jammu
Paper Mache
Kashmiri papier-mâché is a handicraft of Kashmir that was brought by Muslim saint Mir Sayyid Ali Hamadani from Persia in the 14th century to medieval India. It is based primarily on paper pulp, and is a richly decorated, colourful artifact; generally in the form of vases, bowls, or cups. There are two important aspects of Kashmiri paper mache- Sakhtsazi and Naqashi. The first step, Sakhtsazi, involves making the foundation of the paper mache figurine or object with the paper pulp, while Naqashi is the final step of painting and decoration.
Khajuraho, Madhya Pradesh
Date Palm Leaf Craft
The origins of this craft form are traced back to the daily chore of making traditional jhadoos (brooms) woven and crafted out of matured leaves. This particular facet of rural artisan communities- brings to light the importance of ancestral and traditional legacy the present-day handicrafts carry with them - almost metamorphosing from daily utility essentials to products characterized with beauty and aesthetics.
Bibi ka Makbara, Aurangabad, Maharashtra
Warli Art
Warli is one of the oldest forms of Indian folk art and has its origins in the Warli region of Maharashtra. This form of tribal art mainly makes use of geometric shapes such as circles, triangles and squares to form numerous shapes depicting life and beliefs of the Warli tribe. In olden days, Warli art was done on walls on special occasions.
Bishnupur, Kolkata, West Bengal
Batik Print
The age old unique craft of Batik refers to a technique of printing on cloth using molten wax. Though the motifs traditionally used in Batik have undergone a change over time, the method of printing remains the same.
Gangaikonda Cholapuram, Ariyalur district, Tamil nadu
Pith Work
Pith work was once a traditional art form in Thanjavur district. Like many other traditional crafts, it had its origin in the ritual and religious needs of the people. The shola, a herbaceous plant, grows wild in marshy and waterlogged areas.
The pith was originally used in Thanjavur for making garlands out of slices beautifully cut into cylindrical and round shapes and then dyed with different colours.