Facilitated by Manmeet Sandhu and Shrabani Dasgupta 29 July 2022 | 12:00 pm to 3:30 pm Venue: KNMA Saket
On Global Tiger Day, we are pleased to present a zine making workshop, in collaboration with WWF India. The interactive and educational workshop will cover different ways of making zines while relaying important information related to tigers in India. The workshop will be facilitated by Manmeet Sandhu and Shrabani Dasgupta, part of the artist collective Vichar k Achaar.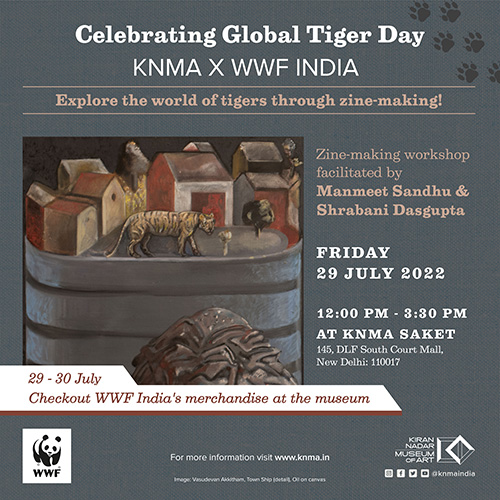 Interested and committed participants (18+) are expected to attend the entire duration of the workshop. Art material and refreshments will be provided. The onsite workshop with limited seats will be held at KNMA Saket.
Don't forget to check out WWF India merchandise at KNMA Saket on 29 and 30 July between 10:30 am to 6:30 pm! Proceeds of sales support conservation.
About WWF India: World Wide Fund for Nature-India (WWF India) was founded with the express objective of ensuring the conservation of the country's wildlife and natural habitats. Set up initially as a charitable trust on 27 November 1969 and then known as the World Wildlife Fund, its journey began in Mumbai.
In its mission to take forward the environmental protection agenda, WWF India works with groups of individuals and institutions across the society. These alliances strive to address the common goal of conserving biodiversity. By sustainably using natural resources and maintaining ecosystems and ecosystem services for the survival of wildlife and people depending on them.
Manmeet Sandhu is a Delhi based artist whose interest lies in assemblages, urban interventions and sequential art. She is presently pursuing her Ph.D in Fine Arts from the University of Delhi.
Shrabani Dasgupta is an artist and graphic designer who loves sequential art and printmaking. Based in Delhi, she practices art from her home studio.