Talks
Research as Practice 2.1 | Crafting Thought
Loose Associations
David Blamey in conversation with Annapurna Garimella

24 February 2022 | 6.00 pm IST

Zoom Webinar ID: 837 6573 8268
Live on Zoom, Facebook and YouTube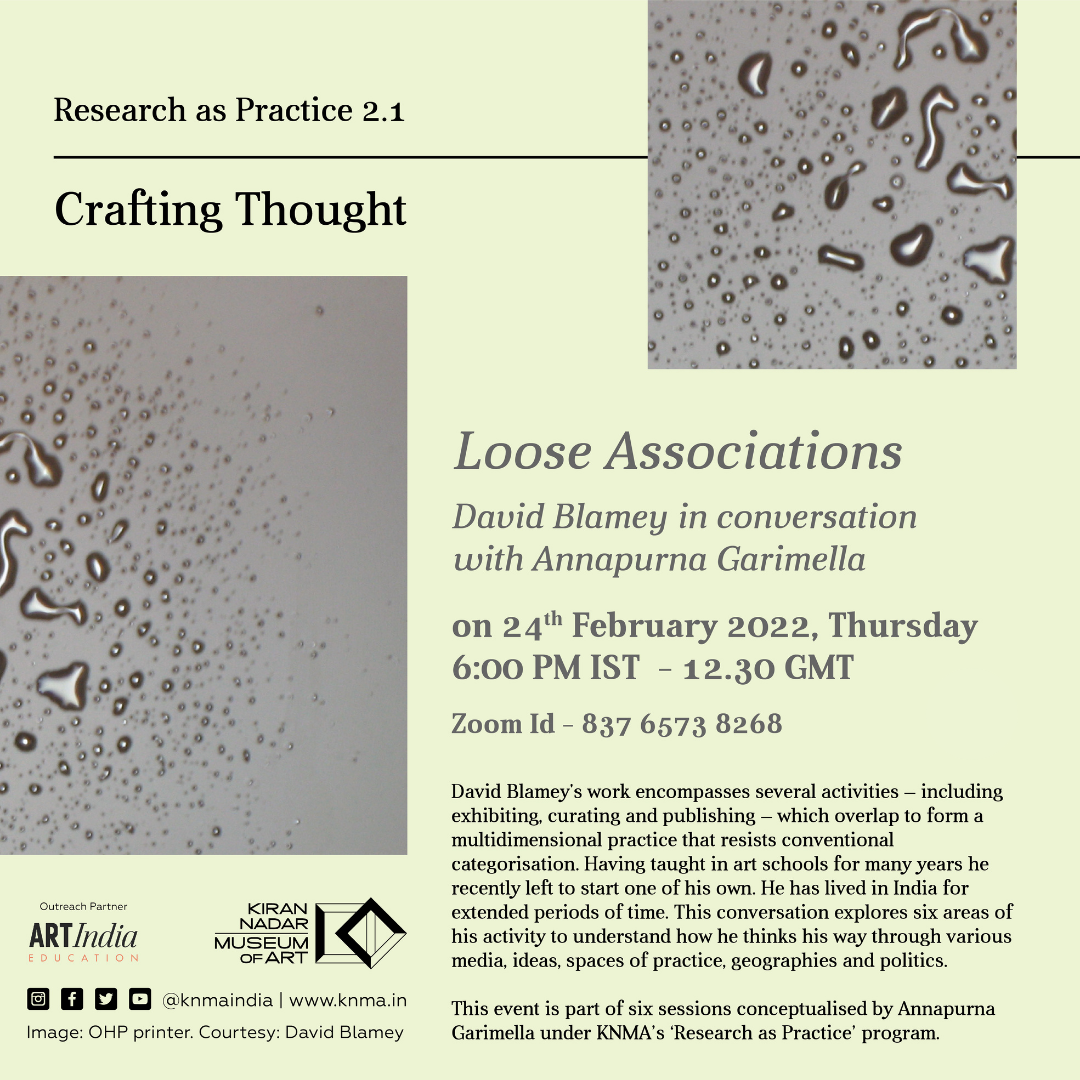 David Blamey's work encompasses several activities – including exhibiting, curating and publishing – which overlap to form a multidimensional practice that resists conventional categorisation. Having taught in art schools for many years he recently left to start one of his own. He has lived in India for extended periods of time. This conversation explores six areas of his activity to understand how he thinks his way through various media, ideas, spaces of practice, geographies and politics.
This event is part of a set of six sessions conceptualized and moderated by Annapurna Garimella that take the idea of research in practice to explore how scholars, curators, publishers, and artists reflect on the way they think and shape an enquiry. Thought has to be continually and skillfully crafted and re-crafted as they engage archives, forms of art and new information. How do practitioners do this? Conversations, modes of research output and engagement with art publics evolve while people, life and world events shift. Thought is immaterial and often evanescent but to gain gravity as an idea and then seed an enquiry, it must be crafted. In the crafting of research practices, accident, intuition, intention, will, desire and fear play important roles. The conversations in this set seek to engage committed practitioners in a discussion about how they work to think.
'Research as Practice' program was initiated in February 2021. It is conceptualised and organised by Akansha Rastogi, Senior Curator, KNMA. The program invites researchers, curators and artists to share and discuss their individual research practices, inventive forms and manifestations of research; and address the complexities of research-forms, be it as 'research-exhibition', creative research, curatorial, artistic or post-institutional research, or artworks as knowledge-systems. Through this series KNMA surveys various forms, formats, historiography of research practices in South Asia art, as well as infrastructures of research and research networks that enable/form/push a coming together of certain groups, questions and methodologies.
David Blamey lives and works in London and SW France. His work encompasses several activities that overlap to form a multidimensional practice that eludes conventional categorisation. He is proprietor of the independent publishing company Open Editions, an imprint known worldwide for its publishing on curatorial subjects. His own edited books include, Here, There, Elsewhere: Dialogues On Location and Mobility; Living Pictures: Perspectives On The Film Poster In India (2005); Specialism (2016); and Distributed (2018). For over 30 years he has travelled and carried out research in India. In recent years he has been drawn to the intangible materiality of sound. He released his first record Rural in 2015 and established the Continuous Tone online platform for artists working with sound in 2019.
Annapurna Garimella is an art historian and designer. She researches medieval Indic architecture and vernacular visual and built cultures in India after Independence. Garimella is the Managing Trustee of Art, Resources and Teaching, a research library dedicated to projects and teaching in the visual, built and performing arts. She also heads Jackfruit Research and Design, which specialises in design, research and curation for the arts. Recent curatorial projects include Mutable: Ceramic and Clay Art in India Since 1947 (Piramal Museum of Art, 2017) and Barefoot School of Craft in Goa (Serendipity Arts Festival, 2017-18). Her recent books are the co-edited The Contemporary Hindu Temple: Fragments for a History (Marg, 2019) and the upcoming edited volume The Long Arc of South Asian Art in honour of art historian Vidya Dehejia (Women Unlimited, 2022). Digesting the Past: The Discourse of Sacralized Architectural Renovation in Southern India is her next book.