Visions of Interiority
Interrogating the Male Body Rameshwar Broota: A Retrospective (2015)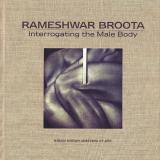 This monograph by Roobina Karode on artist Rameshwar Broota accompanied his retrospective 'Visions of Interiority' at KNMA. It includes a foreword by Kito De Boer and a republication of an older essay on the artist by renowned poet and art critic, Keshav Malik. The book reveals Broota's choice to take the lesser trodden path throughout his artistic practice. While his contemporaries were portraying the female nude as subject matter; Broota remained intently focused on exploring and depicting the male anatomy.
The monograph elaborates Broota's journey as an artist, which began with his figurative works and gradual moved towards the reduction of form from the canvas altogether. His practice is categorized into separate sections which describe his opus oeuvre that roughly comprises of the Ape Series, Metamorphosis, Traces of Man, Confrontation, Counterparts, and New Arrivals.