Author: Mochu
Editors: Akansha Rastogi and Nihaal Faizal
Editorial Support: Avijna Bhattacharya and Sarasija Subramanian
Publication Design: Squadron 14
Images: Adityan Melekalam and Mochu
Pages: 92
Dimensions: 21 x 13.5 x 0.7 cm
Publication Year: 2021
ISBN: 978-81-953472-5-4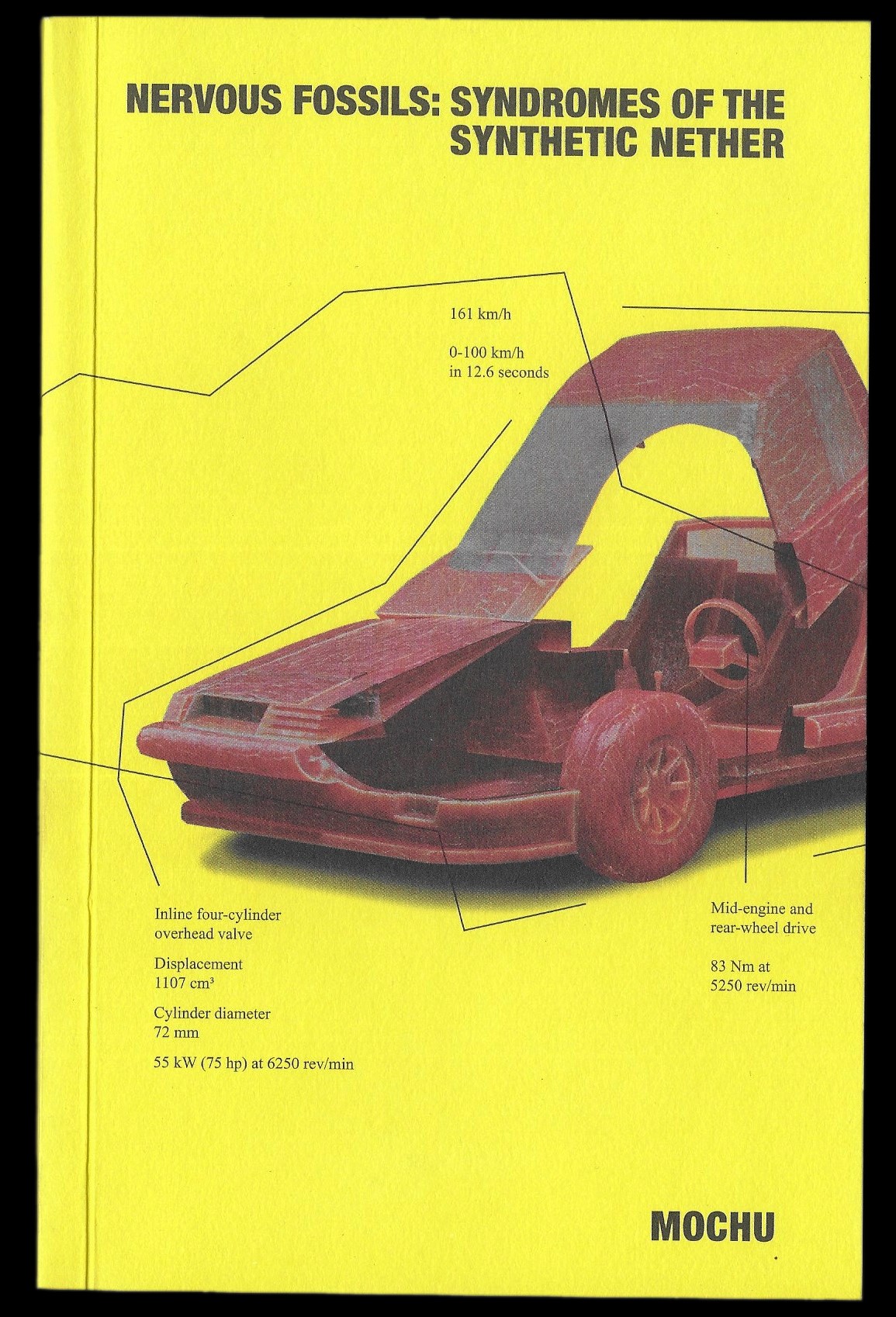 Publication Details:
Co-published by Kiran Nadar Museum of Art and Reliable Copy. This book is published as part of a series of books under the 'Young Artists of Our Times' programme of Kiran Nadar Museum of Art.
About the Book:
Stationed around an art freeport megaproject in the Persian Gulf, and hopping across numerous locations real and fabricated, the book spins off into shadow-histories of synthetic colour production, abstruse citizenship schemes, nuclear warning signs, and syndromes leaking back from the future. During their idiosyncratic philosophical debates, the project employees gradually begin to sense a manic sensorium operating beneath their seemingly sterile financial and logistical systems. Troubles erupt while discussing works of art; futurist imaginaries of financialisation stumble upon the deep inertia of historical time preserved in museums and tombs. Monumental works of art pleasantly rotting in history enter into messy partnerships with volcanoes, hadopelagic planktons, and whimsical vibes of rich people. Stakes are endless while smiles are fake, as the debates swerve into the discreet horror of corporate gleefulness.
About the Author:
Mochu works with video and text arranged as installations, lectures, and publications. Techno-scientific fictions feature prominently in his practice, often overlapping with instances or figures drawn from art history and philosophy. Recent projects have explored mad geologies, psychedelic subcultures, and Indian Modernist painting. Mochu is a recipient of the Edith-Russ-Haus grant for Media Art and his practice has previously been supported by Ashkal Alwan, India Foundation for the Arts, and The Sarai Programme. Exhibitions include the 9th Asia-Pacific Triennial, Sharjah Biennial 13, 4th Kochi-Muziris Biennale, and Transmediale BWPWAP. He currently lives in Delhi and Istanbul.
Young Artists of Our Times (YAOT) is an evolving form articulating and shaping itself through a series of exhibitions, publications, clubs, libraries, conversations, and public art commissions, as a nomenclature and a trace. It is conceptualised by Akansha Rastogi as a long-term, multi-part program at Kiran Nadar Museum of Art. In its volitions, institutional partnerships, and assemblies, YAOT explores a range of artistries, approaching the 'young' as a sensory body. Mochu's Nervous Fossils is YAOT's first publication, and is part of its fourth project. Previous projects organised under YAOT include Smell Assembly, Summer's Children, and the thought-form Right to Laziness… No, Strike that! Sidewalking with the Man Saying Sorry.