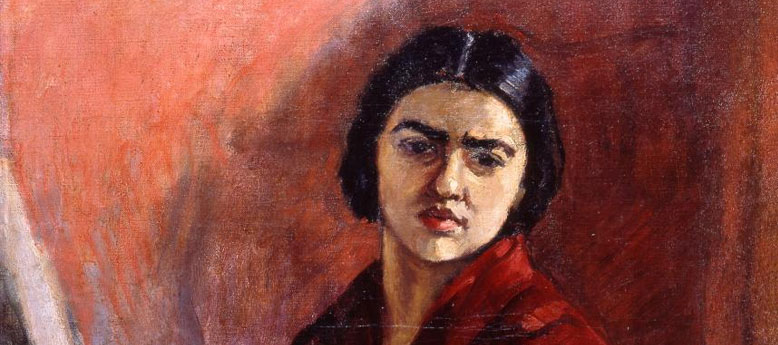 In collaboration with Navina and Vivan Sundaram
'The self in making' examines Amrita Sher-Gil's self-portraits that were grounded in her self-consciousness of growing up to be an artist and also positioning herself as a modern woman. Her nuanced persona could easily slip from a western outfit into a traditional brocaded sari or masquerade the bohemian and get into roles other than the domestic. She drew a series of self-portraits in pencil when she was barely fourteen, learning the skills to transcribe, transform and transmit varied moods and moments through it.
In art historian Rakhee Balaram's words, "The self-portraits display the artist moving from girl to woman to artist as she explored a sensuality that ranges from the heavy-handed to the subtle. Sher-Gil casts herself in a serious light in her Self-Portrait with Easel (1930), moving deliberately from the domestic and the intimate context of the nineteenth-century woman artist to the monumental and majestic poses recalling those of Rembrandt and later Van Gogh."
Balaram further adds, "At stake was not only a serious and viable artistic career as a woman, but the development of a subjectivity that was being defined through the self-portrait. Conscious of being both muse and maker, Sher-Gil took on the position of artist and object with a double consciousness of being both."
The glittering life of Sher-Gil and the reality of her untimely death at the age of 28, could lead one to seek her biography in her self-portraits.