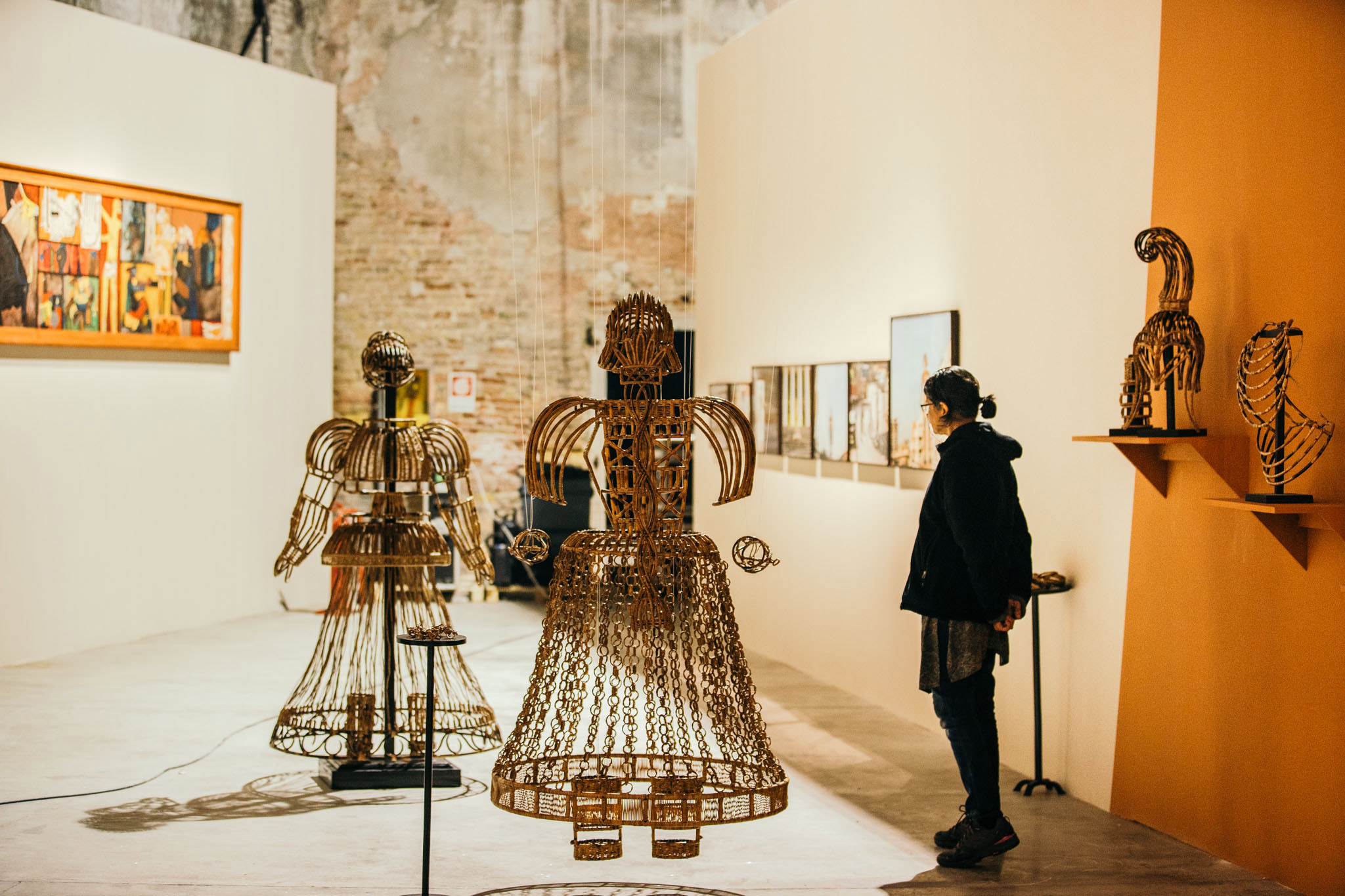 The India Pavilion presentation Our Time for a Future Caring at the 58th International Art Exhibition – La biennale di Venezia is organized by the Ministry of Culture, Government of India, in collaboration with Kiran Nadar Museum of Art and Confederation of Indian Industry (CII), with National Gallery of Modern Art as the commissioning institution.
Our Time for a Future Caring critically engages with the figure and philosophies of Mahatma Gandhi, reflecting on his enduring impact and the contemporary relevance of his ideals. Gandhi acts as focal point for different artistic interpretations, delving into broader issues of India's history and nationhood, as well more conceptual investigations into notions of freedom, nonviolence, action and agency. The exhibition forms part of India's celebrations of '150 years of Gandhi' and showcases artworks spanning from the twentieth century to the present day by Nandalal Bose, MF Husain, Atul Dodiya, Jitish Kallat, Ashim Purkayastha, Shakuntala Kulkarni, Rummana Hussain and GR Iranna.
Our Time for a Future Caring offers an opportunity to explore the rich artistic production that has occurred in India in response to Gandhi. The exhibition begins with the Haripura Panels by Nandalal Bose, an Indian 'National Treasure artist'. The Haripura Panels were commissioned by Gandhi in 1938, to provide art which was accessible to the public and represented everyday life in India, with portrayals ranging from artisans to musicians, gardeners, farmers and household chores. The Haripura Panels are on display in Europe for the first time, on loan from the National Gallery of Modern Art, New Delhi.
In Zameen (1955) MF Husain conceptually represents Gandhi's village republics, with subject matter that continues from Bose but uses a modern idiom. The painting was produced at a moment when hope for a new nation was still intact and when artwork focused on the secular, featuring peasants, the laborer, the rural, the artisan and the indigenous. This piece shows how deeply Husain was thinking about the idea of nation and the multiple languages, religious and social practices that uniquely go into it, perhaps alluding to Gandhi's plea for 'unity in diversity'. Atul Dodiya has explored Mahatma Gandhi as a subject throughout the last 20 years of his practice, referring to him as an 'artist of nonviolence', probing the aesthetic qualities of his public image and legacy. Broken Branches (2002) features exact replicas of the wooden cabinets used to display relics and memorabilia in the Gandhi memorial Museum in Porbander. These cabinets weave together the personal and political, filled with objects and photographs, disassembled traces of Dodiya's own life and experiences.
Covering Letter (2012), Jitish Kallat's poignant, immersive video installation invites visitors to step into a forgotten moment in history, a letter sent from Gandhi to Hitler, projected onto fog. The letter sent before the start of the Second World War is addressed 'Dear Friend' and in revisiting this historical document, Kallat reflects on the possibilities of peace and tolerance in a world plagued by violence and like Dodiya, the traces Gandhi has left behind. This work is on display in Europe for the first time.
Ashim Purakyastha puts the iconography of Gandhi under a critical lens, his series of postage stamps exploring the meanings of these popular images, which are both monumental and intimate. Untitled (2019) is also included in the exhibition, comprised of paintings and sculptures of stones. Engaging with broader themes and ideas, which hold synergies with Gandhi's ideals, Our Time for a Future Caring features sculptures, photographs and accessories from Shakuntala Kulkarni's project Of Bodies and Cages (2010-2012). The wearable sculpture and photo-performances investigates ideas of freedom and non-violence, particularly for women in public spaces. The armor, inspired by warriors and kings, when adapted to a woman represents power and vulnerability. Kulkani worked closely with a local artisan to master this traditional Indian craft, learning to use bamboo cane as a material.
Rummana Hussain, Fragments (1993) also features traditional materials from India, terracotta, earth pigments and charcoal. As with other artworks in the exhibition, the installation of shards of broken pots explores action and agency, inspired by Husain's experiences of violence and intolerance. Hussain's works were ephemeral in nature, and many have not been preserved, making them even more precious today.
Naavu (We Together, 2019), an installation by GR Iranna evokes the idea of walking as a performative action, practical but also meditative and spiritual. The installation of padukas, a cheap and traditional wooden footwear, recalls Gandhi, who used to walk twenty miles each day. Situated in a new location in the historic Arsenale, the India Pavilion is designed to be a meditative space for visitors and create an environment in which new connections and unexpected encounters can be made. The exhibition is accompanied by a catalogue, which includes contributions by Roobina Karode, Curator, Kiran Nadar, Founder and Chairperson of Kiran Nadar Museum of Art, Tarana Sawhney, Chair of Art and Culture taskforce, CII, Shri Adwaita Chavan Gadanayak, Director General, National Gallery of Modern Art, Gayatri Sinha, Critic and curator, and Akansha Rastogi, Curator, Kiran Nadar Museum of Art.