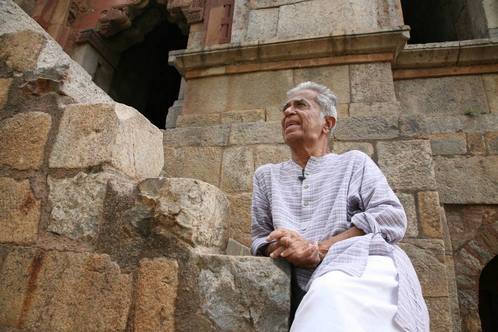 New Delhi, December 9, 2019: Iss ghat antar baag bagiche is an homage to Haku Shah (1934 – 2019), the reticent artist who grew up in an environment inspired by Gandhian thoughts and philosophy. We remember him as a painter, photographer, crafts archivist, an empath with a cultural polyphonic affection, well-known for his collection of artefacts of vernacular arts accumulated in the course of his extensive research and travels across India. Haku Shah meticulously documented varied cultural expressions of the rural arts and crafts, objects, techniques and processes of making. Drafting almost a new form of practice in post-independent India, with a strong educational focus. A cultural anthropologist with an archivist's zest and values, his contribution to the National Institute of Design (NID) in Ahmedabad, Shilpa Gram in Udaipur and several path-breaking exhibitions, remains unique. Mentored by artist-pedagogue KG Subramanyan, Sankho Chaudhuri and NS Bendre at the Faculty of Fine Arts in Baroda, Haku Shah's artistic passage, sought and created harmonious relationship between object, technique and concept.
Around eighty works from the Haku Shah archive including paintings, terracotta sculptures, textile scrolls, books, journals and periodicals will be displayed in the exhibition. Moving between miscellanea of mediums from oil on canvas, mix media collages to colour pencil and ink drawings on postcards to Shah drew from an assembly of cultural references. From 15th century Bhakti and Sufi poetry and verses to more recent literature, music, creative and social expressions the works carry a gamut of both dynamic and dormant avenues for interpretation. The exhibition brings together works from several series and a few that are being exhibited for the first time. It includes his collaboration with musician and vocalist Shubha Mudgal which resulted into the exhibition Haman hain Ishq (2002), the other series being Noor Gandhi Ka Maeri Nazar Main(1997), Nitya Gandhi / Living Reliving Gandhi (2004) and Maanush (2007) that reflects on humanism, embodiment and disciplined pursuit of Gandhian values and processual politics.
Born in the village of Valod, Gujarat to Vajubhai and Vadanben Haku Shah grew up in a region that imbibed a nationalist fervour and propagated the Gandhian way of life, having being located near a Gandhi ashram and centres of Satyagraha in a pre-independence scenario. Shah pursued his education from the Faculty of Fine Arts; Maharaja Sayajirao University in Baroda 1955-59. He had begun drawing at a young age, copying portraits of Gandhi in tune with the nationalist trends. The interdisciplinary and free atmosphere at Baroda initiated a foundation for his larger practice. After completing his fine arts degree in Baroda, Haku Shah taught at a Gandhian Swaraj ashram, Vedchhi in Surat district of Gujarat, and since then the handspun yarn became an important expression of his artistic persona. Dr. Stella Kramrisch invited Shah to curate the seminal exhibition "Unknown India" while he was associated with the National Institute of Design (NID) in 1967. The tribal museum at Gujarat Vidyapeeth in Ahmedabad, which was founded by Mahatma Gandhi, was a site Shah engaged with. He taught at the School of Architecture, Ahmedabad for many years, aside being Regent Professor at University California, Davis. An awardee of honours like Padma Shri, Kala Ratna, Kala Shiromani, Gagan Abani Puraskar and fellowships like the Rockefeller Fellowship and the Nehru Fellowship, Shah implemented a parallel modernity, inspired by vernacular philosophies.