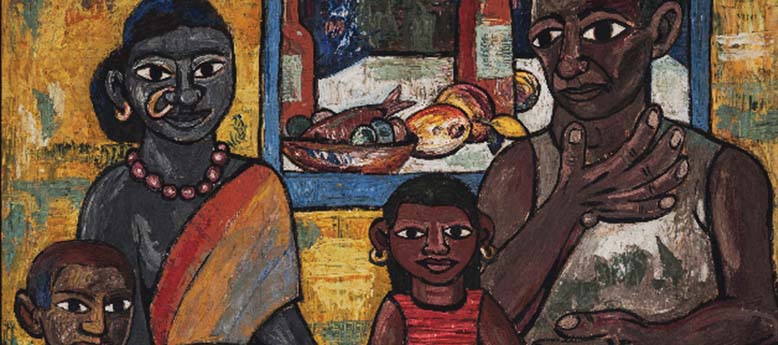 Participating artists
M.F. Husain, S.H. Raza, F.N. Souza, Madan Mahatta, Raj Rewal, Mahendra Raj, Kuldeep Singh, Habib Rahman, Kanvinde, Akbar Padamsee, Ashim Ahluwalia, Nalini Malini, Nasreen Mohamedi, Navjot Altaf, Pushpamala N., Mithu Sen, Atul Dodiya, Parthiv Shah
The string of exhibitions under the title 'Stretched Terrains' are woven out of different ingenious pursuits, proposals, and vocabularies that emerged in the context of the decades following independence. With its simultaneous seven uniquely interrelated yet independent exhibitions, 'Stretched Terrains' cuts across architecture, painting, films, and texts in the form of letters, sketchbooks, and discursive writing. It introspects on varied ideas around progress and progressive, developing the existent urban, strengthening of the rural and the making of the 'nation-state'.
The three artists from the Progressive Artists' Group in Bombay M.F. Husain, F.N. Souza, and S.H. Raza shown individually represent the plurality of expression among a collective that despite being short-lived, had a lasting camaraderie, defying its own manifesto that often slots them in a definite box. These three solo exhibitions present rare artworks mostly from the formative period, and highlight their diverse seeking, different personas, and intense journeys. Heroic, rebellious and self-important, they represent what has been dubbed the phase of the 'male moderns' or male-driven modernism in India. Conversely, we have the three contemporary women artists, Pushpamala N., Navjot Altaf, Mithu Sen who alongside Atul Dodiya, engage with the cultural past, play on inheritance and resistance, critiquing it as they develop their own language of dissent and difference in the exhibition 'Interpositions: Replaying the Inventory'.
Also, part of the sequence is a special exhibition on modern architecture of Delhi, a focused perspective on the Vision Exchange Workshop organised by artist Akbar Padamsee in 1968-69, and a photography exhibition of Parthiv Shah (Sadak.Sarai.Sheher.Basti) of his documentation of MF Husain in early 1990s. In 'Delhi: Building the Modern', Raj Rewal's remarkable architectural conceptualization of iconic 'Hall of Nations', and extraordinary feats achieved in the buildings designed by architects Kuldip Singh, Habib Rahman and A.P. Kanvinde between the 1960s to 80s, are presented alongside the structural and engineering drawings of Mahendra Raj. The architectural photography of Madan Mahatta charts the scale, innovation, and the contexts of modernization in Indian architecture.
Another trait of the exhibition is to draw attention to a disrupted continuity as seen in the reconstruction of Akbar Padamsee's lost film 'Events in a Cloud Chamber' by filmmaker Ashim Ahluwalia, the first time use of modern technology by women artists (Nalini Malani's films and photograms by Nasreen) or in the playful insertions by Pushpamala in her series of photo-performances 'Native Women of South India'.