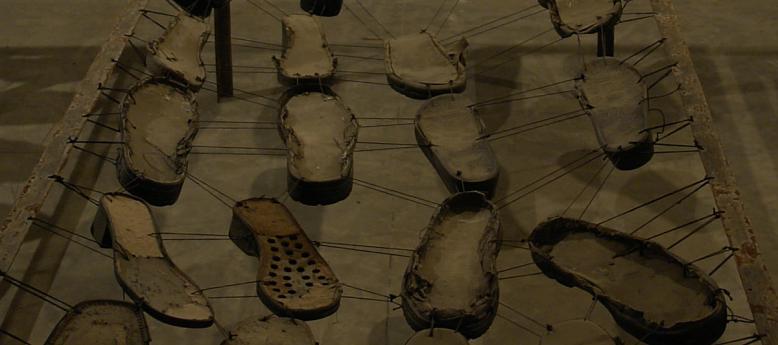 KNMA is presenting this year, the first ever retrospective of eminent artist Vivan Sundaram, one of the most influential artists of his generation in India. This large-scale exhibition is an extensive showing of his multimedia practice, bringing together many of his rare and key works and experiments, reflecting on his take away from Modernism, elements from Pop and Kitsch, moving away from the centrality of painting to take a conceptual turn. There are around 180 artworks on display, which include drawings, paintings, sculptures, collages, photo-montages and installations created over a period of five decades. It showcases his early works such as the pop and kitsch paintings (1965-66), Macchu Picchu (1972) series of drawings, engine oil drawings and installation (1991) to his most recent co-authored projects 409 Ramkinkars (2015) and Meanings of Failed Action: Insurrection 1946 (2017). Most of his early works will be in the public view after a gap of almost thirty to forty years.
Titled after one of Vivan's paintings 'Step inside and you are no longer a stranger' which is part of the Punjab University Museum collection, this eponymous exhibition invites a poetic step from the spectator. At times, a provocateur seeking participation and collaboration, and sometimes acting as an interlocutor, Vivan has continuously attempted or staged immersive situations and spatial structures for the viewer through his installations. It is the spectator that holds the centre. The exhibition is animated with gestures and narratives that address the topical, the historical and the personal, alongside marking the cusp of significant shifts in the history of modernism in India.
In his large installations such as 12 Bed Ward, River carries its past and 409 Ramkinkars on display in the exhibition, he traverses through the industrial landscape and discards, oil grids, things sourced from local flea markets and second-hand markets to fragile terracotta recasts of modernist-master-sculptor Ramkinkar Baij's famous sculptures Santhal Family and Mill' Call. The exhibition highlights Vivan's acts of doubling and re-evaluating. References to journeys through repetition of the motifs of boat and a house as a shelter for the migrants or just the adventurous ones who have ventured far away. With his installations Vivan offers a temporary halt to the stranger he seeks.
Preparing for his Retrospective exhibition, Vivan Sundaram says: "This exhibition presents the themes I have engaged with, but it also proposes structures that hold things together in retrospect: via the work, the exhibition layout, and spectator itineraries. 'Step inside and you are no longer a stranger': the exhibition's title reflects the conflicting dimensions of my practice."
On the occasion Kiran Nadar, Founder & Chairperson, KNMA, says, "Vivan Sundaram's exhibition marks another major moment in the eight years of institutional presence of KNMA. The retrospective of this scale and kind has led to loans from 42 private and public collections from all across the country and overseas. We are glad to present this rare and extraordinary feat of fifty years of work of this highly celebrated and influential artist, put together for the first time. We have taken up the daunting task of coherently presenting such a prolific and wide ranging oeuvre. It is a show which is going to be remembered for a long time."