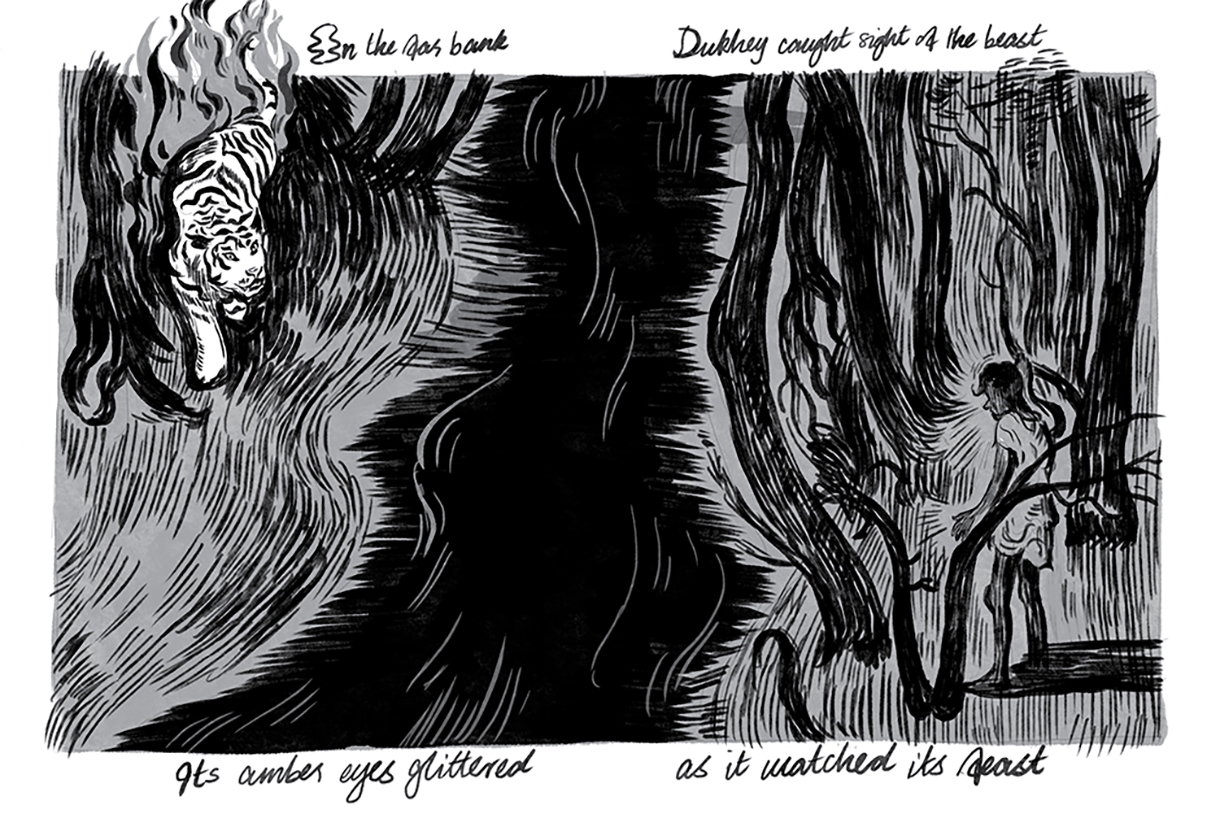 'Very Small Feelings' is co-produced by Kiran Nadar Museum of Art and Samdani Art Foundation (SAF). It is the fourth exhibition under KNMA's multi-part, long-term program 'Young Artists of Our Times' which was initiated in 2019. First iteration of the exhibition was organised as part of Dhaka Art Summit 2023 (3 - 11 February).
The exhibition is curated by Akansha Rastogi (Senior Curator, KNMA) and Diana Campbell (Artistic Director, Dhaka Art Summit) with Ruxmini Choudhury (Assistant Curator, Samdani Art Foundation), Avik Debdas and Swati Kumari (Curatorial and Research Associates, KNMA).
Artists and Projects in 'Very Small Feelings':
Ade Dianita and Aditya Novali, Afrah Shafiq, Afra Eisma, Ahmet Ogut, Ali Sethi, Amitav Ghosh, Salman Toor and Ali Sethi / Junglenama, Anga Art Collective, Anpu Varkey, Artreach-KNMA Teaching Fellowship, Ashfika Rahman, Atreeye Dey, Blaise Joseph and NEG Fire, BenodeBehari Mukherjee, Chittaprosad, David Horvitz, Devi Prasad and Art Education at Sevagram/Nai Talim, Driant Zeneli, Ganesh Pyne, Ghazaleh Avarzamani, Joydeb Roaja, Roman Ondak, Ha Bik Chuen, Irushi Tennekoon, Jani Ruscica, Jessy Razafimandimby, Kabir, Ahmed Masum Chisty, Kelly Sinnaphah Mary, Lapdiang Syiem, Leela Mukherjee, Lokesh Khodke, Marzia Farhana, Matthew Krishanu, Mong Mong Sho, Murari Jha, Neha Choksi, Nidhi Khurana, Prasad Shetty and Rupali Gupte, Sanjoy Chakraborty, Samina Mishra / The Magic Key Centre, Simon Fujiwara, Susanta Mandal, Satyajit Ray, Thao Nguyễn Phan, Yasmin Jahan Nupur
Very Small Feelings (VSF) gently holds and hosts the figure of the child, and approaches childhood as a place that one can enter and exit at will. The exhibition gathers artists, child-artists and visitors to imagine and create environments, architectural spaces and a range of intensities that require exploration in their own terms through play, storytelling, participation and willful engagement. The exhibition seeks to encounter the eternal inner child who lives inside everyone, and binds us strongly to it. Interested in the spoken word, and the generative space of orality built through the telling and retelling of stories, it brings together forty-two projects ranging from new commissions, historical works, performances, books, personal and institutional archives, artist's creative prompts turned into installations, and many kinds of landscapes.
Nothing is older than a child. The adage is circuitous, expansive, like a labyrinth; it pushes one to find ways and meanings through it and makes one attentive to language, scale and selfhood of all things. VSF is speckled with artworks made by children, some with annotations indicating how to read, approach these drawings and the category of child-art, by artist-educator Devi Prasad. These drawings – from a three-year old's scribblings to a fifteen-year old's rendering of a summer afternoon in a village – are brilliantly expressive, intuitively alive and telling of how inseparable the self and the external world is for a child. With these drawings, 'Very Small Feelings' flows into a much less rigid register of the senses, of the instinctive muscular movements of the body, of memory, nostalgia and longing, and towards a subjectivity without consciousness. VSF uses the saying 'Nothing is older than a child' as a provocation to turn the museum into a playground and a creative space for intergenerational conversations.
We call this space for intergenerational conversations and entanglements a Spread. And this Spread is loving, permeable, ambiguous, and dazed; full of stories and fables, rituals and folklore, characters, popular cartoons, children's books and illustrations, memories, and actions that produce many kinds of surfaces. One end of the Spread highlights pedagogical experiments and creative collaborations between artists and young learners, historically looking at children's culture and practices of select South Asian modernists as illustrators and initiators of platforms for learning and arts mediation. The other end deeply engages with idea of 'a child' as instinct, curiosity, play, imagination, innocence, language, future, past, and much more – a whole person with emotions, germs, feelings, pursuits, questions, silliness, joyous wonderment, inheritance, memories, and innumerable things passed down genetically and culturally.
Artists in the Spread appear as storytellers, researchers, provocateurs, educators, prisms, and makers developing different methods in their unique environments. They invite us to tap into our memories, feelings, experiences, and beliefs in the world beyond what we see with our eyes, beyond linear, sequential time. To feel the far away as near, the near as far, the minute as monumental, the monumental as minute, all with a sense of magic and awe. Playful and anecdotal stories change as they travel from mouth to ear and to mouth again, animating the uneventful repetition of daily rituals into something profound, amplifying the thud of a falling jackfruit that stuns two siblings, wafting smells of disappeared places, raising a swell of questions around gender that prod a young mind, amongst many other things examining childhood through our lived experiences and biases. While there is much that is hard to remember and to reconcile, we must return to our inner child to heal traumas we may carry as adults.
Inside the Spread, Who the Baer, Sanbras, Bonna, Meena, Bon Bibi, a stag, the two unnamed siblings, a young boy, a mother with her toddler, father and son, Shakchunni and many other characters who are real in the imaginations of many, tease out tales, histories, emotions, big and small, through their relationships with other bodies, with family, community, and the world around them. So, let's enter gently, in pairs or with a chosen group. To play, to be the play, to do what we like. There are many rituals to choose from, stories to listen to, many ears to which to tell yours, too. It is all a day's rhythm. The night shall bring its own hum.
About 'Young Artists of Our Times' series
Young Artists of Our Times (YAOT) is an evolving form articulating and shaping itself through a series of exhibitions, publications, clubs, libraries, conversations, and public art commissions, as a nomenclature and trace. It is conceptualized by Akansha Rastogi as a long-term, multi-part program at the Kiran Nadar Museum of Art. In its volitions, institutional partnerships, and assemblies, YAOT explores a range of artistries, approaching the 'young' as a sensory body. It engages with the idea of 'youthfulness' as a transformative, restless, and critical space of inquiry and experimentation, asking what it means to locate oneself in the language and terms of the young, not simply as an age, but as a larger conceptual framework and place to dwell on the anxieties and urgencies of an unfolding and unresolved present.
About Samdani Art Foundation
The Samdani Art Foundation (SAF) is a private arts trust based in Dhaka, Bangladesh, founded in 2011 by collector couple Nadia and Rajeeb Samdani to support the work of the country's contemporary artists and architects. Led by Artistic Director and Curator Diana Campbell, SAF seeks to expand the audience engaging with contemporary art across Bangladesh and increase international exposure for the country's artists. Its programmes support Bangladeshi artists in broadening their creative horizons through production grants, residencies, education programs, and exhibitions. To achieve this, SAF collaborates with the Bangladeshi government through official partnerships with the Ministry of Cultural Affairs, People's Republic of Bangladesh, and the Bangladesh Shilpakala Academy.
Download Exhibition Booklet Download Hindi ArtistBoards Download English ArtistBoards
Outreach Activities for Very Small Feelings