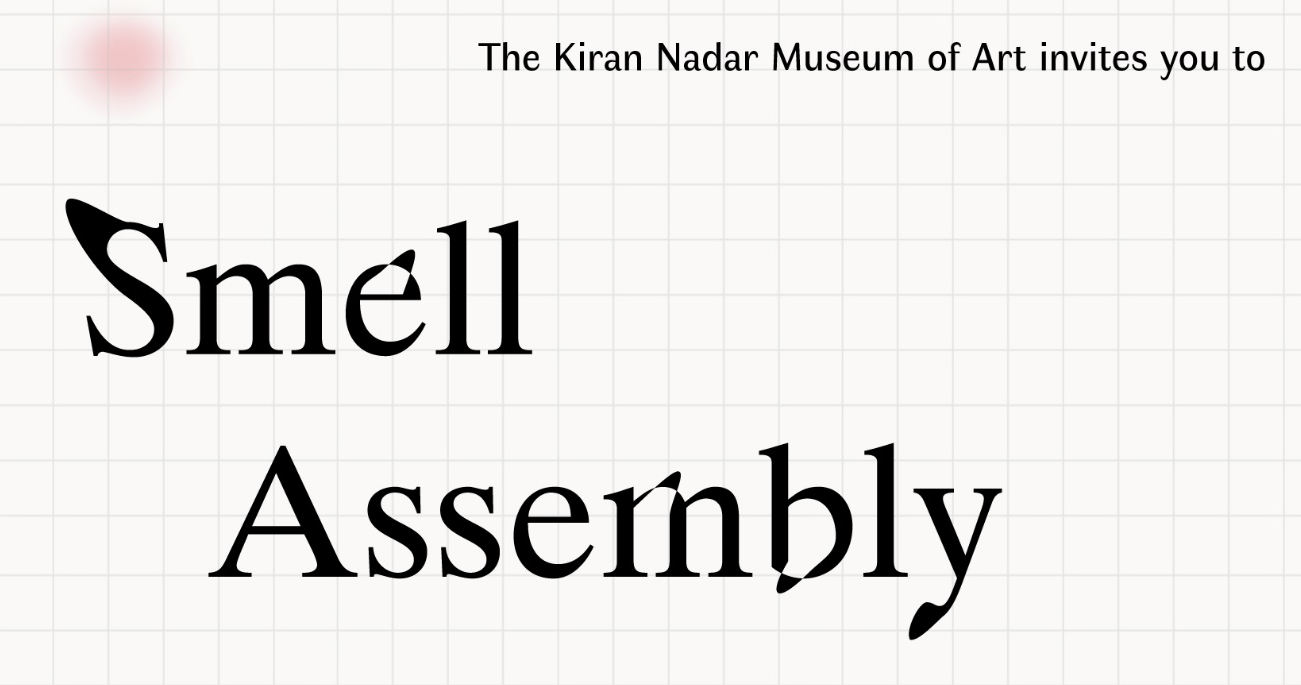 Kiran Nadar Museum of Art is pleased to present its first series of small exhibitions 'Young Artists of Our Times' curated by Akansha Rastogi, Senior Curator, Exhibitions and Programs. The series of exhibitions will unfold from September 2019 to March 2020, exploring different artistries, forms of attentiveness, indulgences and 'transformational energies' of youthfulness as a place, which is restless yet lazy, 'too slow and too fast', 'rigorous and uninterested'.
KNMA commissioned artistic research and project 'Smells of the City: Scents, Stench and Stink' by Ishita Dey and Mohammad. Sayeed in 2018 as part of ideation and thinking around museum and the city and urban ecology. 'Smell Assembly' thinks through Dey and Sayeed's year-long project, and brings together walks, collections and annotations of smells from three sites in the city: Majnu ka Tila, fish markets of Chittaranjan Park, ittr shops and spice market of Old Delhi. The exhibition follows trails of smell-work of Sakha cab drivers, Shahri Mahila Kamgar Union, sanitation workers, smell-workers of Gadodia market, manual scavengers, ittr makers and associated clusters.
According to curator Akansha Rastogi, "Smell Assembly opens an anthropologist's field diary in a contemporary art museum. It puts into focus the sensorial body as well as a researcher's body purposefully wandering in the city, a body that maps as well as carries smell, as Ishita Dey and Mohammad Sayeed attempt a phraseology or elaborate on the structure of smells and their naming. The exhibition introduces a parcha from a fictional smell-workers union that re-imagines smell as the primary basis of reorganizing work and rate cards, and further invites to play and find one's own temporary disposition or mizaaj through a smell game. Each collected smell translates into a micro-site with this spatial thinking and processing of research in an exhibitionary form, multiplying or displacing the primary sites of research and transporting viewers to various landscapes and memory-scapes through olfactory experience."
Ishita Dey and Mohd. Sayeed's Note:
"Smells surround us. Sometimes we can recognize one from the other. But mostly we can't. A little subtle and they are ignored altogether. A little louder and they become intimidating. People have their own smells. So do houses. Streets too. And the cities, cities are known by their smells – different for different areas and changing with the time of the day and even seasons. But, how much do we know about smells. Do we have enough words to talk about them? Surely we can distinguish some by their names. But most we know through some or other associations. Smell of this or smell of that. As if cultures never thought of having dedicated words for distinct smells. Smells are intimate. They are like whispers, hence the emphasis on subtlety. To let a smell go wild is to shout out a secret in public.
When we know the smells through their associations, often they are material things. We can smell fear. To be at home in a city is to be surrounded by reassuring smells. Can smells express the abstract sense better, giving it a material touch, or whenever we speak of smells we are always speaking of the figurative?
Smells help us to navigate through nooks and corners of every city and Delhi is no different. One of the challenges that city's planners face is to keep the city smell free. In this context it would be important to remember Delhi's tryst with closure of industrial units, shift from diesel and petrol run automobiles to compressed natural gas or constant debates on the ever increasing height of city's landfills. Amidst these debates, what is missing is how smells are felt, expressed through human – non-human interaction.
There are two related questions that we want to explore. First one relates to the representation of smell. If one cannot record a moment of smell, to come back to later or, let's say to share it with a friend, what are the ways, through which, we remember them or recognize them? Is it possible to translate smells in other mediums–visual, aural, language–in order to understand to what extent the smells have a bearing on contemporary urban life. How do smells represent the metaphorical sense of being in the city and how smells themselves can be represented in search of what is hidden from visual and aural grasp of the city. Secondly, how would an olfactory map of the city look like and how does it express the social? Can social relations be expressed in terms of control over one's own and surrounding smells? Who has the control over its perpetuation and expression, and who has to live with it and under what condition. How do urban dwellers navigate the inescapable olfactory map of the city?"