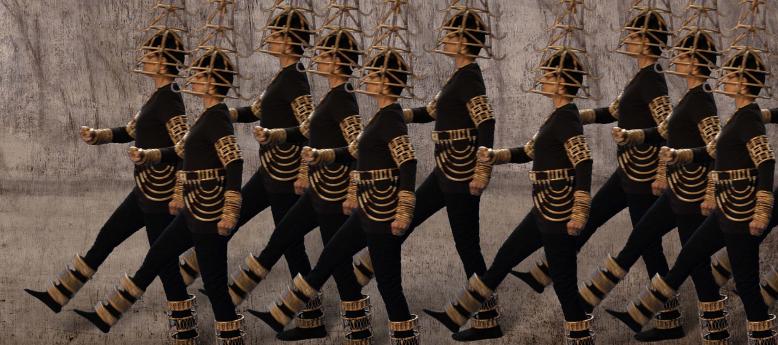 Participating Artists:
Archana Hande, Bani Abidi, Gigi Scaria, Hitain Patel, Paribartana Mohanty, Pratul Dash, Rashid Rana, Rohini Devasher, Shakuntala Kulkarni, Sheba Chhachhi, Shilpa Gupta, Sonia Khurana, Ranbir Kaleka, Vishal Dar and Vivan Sundaram
The Kiran Nadar Museum of Art is pleased to present for the first time an exhibition dedicated only to video works. The exhibition 'Enactments and each passing day' is presented conceptually as a choreography of scenes, actions, staging/s, sites and journeys by fifteen contemporary artists from different generations. It unfolds in loops various enactments in the form of single-channel and multiple-channel videos, video-sculptures, and large video installations. The exhibition showcases many important works from the collection including Ranbir Kaleka's 'Man Threading a Needle' (1998-99) and Bani Abidi's trilogy of videos 'Mangoes', 'Anthem' and 'News' (1999 -2001), Vivan Sundaram's 'Black Gold' (2014), Shakuntala Kulkarni's 'Julus' (2015) and Sonia Khurana's 'Head Hand' and the 'Surreal Pond'.
The exhibition offers journeys to unknown, real and imaginary terrains, that are speckled and marked with discreet and abstract presence, such as that of Shakuntala Kulkarni's army and procession of multiple selves/bodies in her immersive four-channel video work 'Julus' and Sheba Chhachhi's mammoth elephant submerging or dissolving in water in her video 'Water Diviner. Archana Hande's video installation 'The Golden Feral Trail'' is transforming the West Australian horizon into a screen displaying stories of nomadism, economic relations and loss of cultural identity. From Vivan Sundaram's bed of detritus that refers to the fabled city of Muziris, the viewer is taken to a strange forgotten abandoned outpost of Second World War off the U.K. coast, marked by huge metallic structures in Rohini Devasher's video.
The exhibition contests the established binaries between rigidity of statehood and borders, and the everyday, iconic and the frivolous, Mao and Gandhi, physicist and a miniaturist, artist and his double. These enactments performed by actors/non-actors or artist-performers amidst a crowd or in solitude, in a ruin or remote landscapes, inside a workshop or a public space, are mappings of 'returns to the everyday'. The exhibition speaks through ascents and accents, dissolutions, dislocations, territorial claims, apocalyptic signs, body and the double, and public icons, inducing one to read simultaneously the readily visible and the suggested gestures.