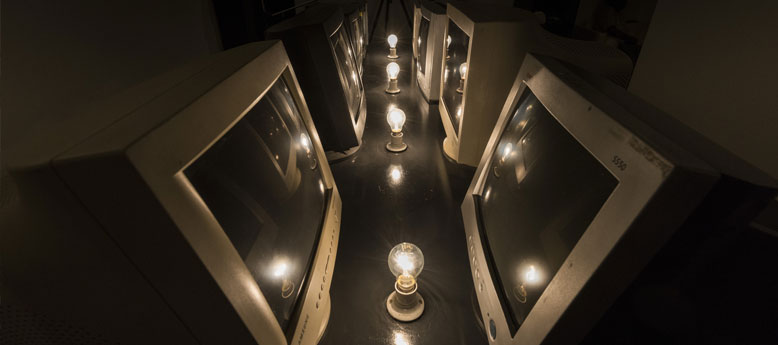 Alia Syed | Amar Kanwar | Kausik Mukhopadhyay | Mithu Sen | Naeem Mohaiemen | Neha Choksi | Nalini Malani | Nandita Kumar | Ranbir Kaleka | Shahzia Sikander | Sheba Chhachhi | Shezad Dawood | Sonia Khurana | Sudarshan Shetty | Vibha Galhotra | William Kentridge
Engaging with videos or films in a dark or semi-dark space, where things come closer to life or create a world of their own, the presence of colour, touch, sound, movement, apparitions, light and shadow, draws one into a complex technological environment. One is moved by the potentiality of the mediums used by artists, their diverse and occasionally precarious themes processed through the intricacies of looped time and nuanced languages. The world of today is disenchanting and distraught, yet alluring and demanding, desiring poise and equilibrium.
The exhibition Delirium/Equilibrium brings together transitory and intermediary states of incoherence, anxiety and excess, amplified in the disorienting acts of gibberish noise speech, unsettling animated/mechanized objects, a dizzy virtual journey into the meandering paths of a landscape, echoes of long drawn political speeches and quiet inner struggles of seekers/protagonists. Varied durations, scale and approaches can be seen at play, ranging from a rare eight channel video installation, a forty-five feet long projection, an eighty-five minute long film to a twenty-four feet long table-top with kinetic objects.
The participating artists present poetic ambivalences and blurred visions of the present, broaching the subject of life, the depths of darkness, illuminating the need for a rewiring of the world. With isolated gestures, stand-alone episodes, sites of failure and mysterious realms, the exhibition offers a setting for a philosophical reading of the present moment, politically and socially.