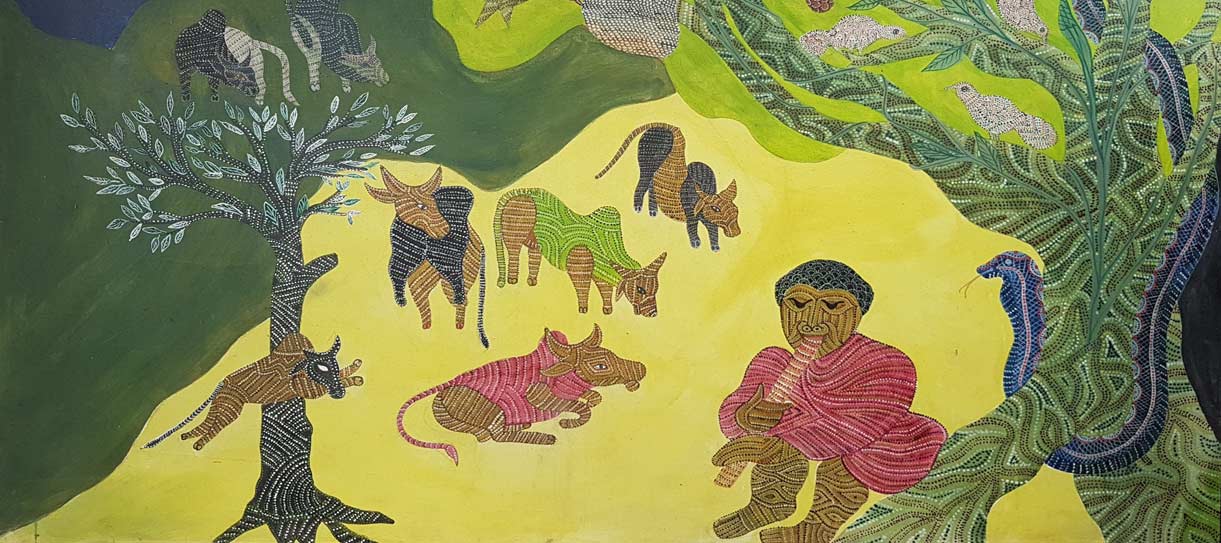 The Kiran Nadar Museum of Art (KNMA) is delighted to present the opening of exhibition 'Jangarh Singh Shyam: A Conjuror's Archive', co-curated by Dr. Jyotindra Jain and Roobina Karode at KNMA.
KNMA has expanded its curatorial and exhibition program in the last few years. Since 2017 a special exhibition category has been introduced, to open up discourses around preceding pre-modern, traditional and indigenous art practices, and critically examine their influence and appropriations in urban contemporary art. This year the exhibition on artist Jangarh Singh Shyam problematizes 'the tribal' and 'the contemporary'. Jangarh was born into a Pardhan Gond family in the village of Patangarh in Mandla district, of Eastern Madhya Pradesh. He is much discussed for his creation of a new style, which is named after him as 'Jangarh Kalam'. A unique style when compared with traditional tribal art practices. Its initiation happened early when Jangarh met J. Swaminathan (who was then Director at Bharat Bhavan) during a talent scout. Jangarh's primary subjects were sometimes Gond deities like Thakur Dev, Bada Deo and Kalsahin Devi and at other times were applique styled portraits of animals, trees, folklore imagery and landscapes of the place where he grew up, placed next to objects and entities from urban settings, like aeroplanes.
The exposition is enriched with works brought in on loan from government and private institution collections and many private collectors. The exhibits include paintings on paper and canvas, terracotta murals, digital prints of photographs, Jangarh's letters, and reproduction of mural images and theatre posters which incorporated Jangarh's art work.
A substantial showing in this exhibition of Jangarh's works has come from The Museum of Art and Photography (MAP), Bangalore. Works from institutions such as Bharat Bhawan in Bhopal and The Crafts Museum in New Delhi are historically important as they were places where Jangarh worked on-site projects. Some in-situ murals will be reproduced for the exhibition. The book by Dr. Jain (who is a cultural historian and museologist), offers rare insight into the life and works of Jangarh Singh Shyam.
"This exposition is a witness to Jangarh's excitement and angst, his hope and despair, which pulled him into a vortex of uncertainty and alienation from his familiar ground. His rise to fame, through the exhibition Magiciens de la Terre, at Centre Pompidou, Paris in 1989 followed by subsequent multiple commissions from different art entities, with his journey ending tragically, when Jangarh committed suicide in Japan at the age of 39. At a cursory glance while one may think he created the universe he knew, which was being amidst the flora and fauna in natural surroundings that were associated with his imagery, there are embedded stories, fables, anecdotes and myths that are unveiled beautifully by Dr. Jain", mentions Roobina Karode, Chief Curator and Director, KNMA.
The ethos of the exposition at certain points resonate and harmonize with the spirit of the book on Jangarh and at other times take a self-determining course to generate unique visual experiences.
"Jangarh Singh, a young Pardhan artist with an inborn genius for drawing and painting and modelling … was "discovered" when the walls of his hut were found to be covered with paintings done by him", J. Swaminathan once stated, to what Dr. Jain points out, "The term 'discovery' as applied to encountering works by indigenous or vernacular artists by ethnographers, art historians and what Jangarh would call sheheri (urban) artists further stresses the hierarchised binary between the two and, concomitantly, the power relation inherent to the dynamic between the invasive 'discoverer' and the passive 'discovered', more explicitly visible in the histories of colonial voyages and geographical discoveries".
One of his works from the late 1980s depict a serpent supporting the animate earth on its head where the stylized form is shaped out of numerous dots. Jangarh introduced this entirely new style which generated a narrative instead of portraying a singular deity. Adding layers of chronicles to his subject, Jangarh often drew from the social and cultural changes that he observed around.
His earliest commission work from 1996, is a massive exterior mural covering 6500 square feet in Vidhan Bhavan, Bhopal, in which he was assisted technically by Ashis Swamy, a theatre associate and a trained artist from Santiniketan. This mural was the first of its kind done by Jangarh. He populated the pictorial ground with his gods, the vegetation and creatures embedded in his memory to which he added a colossal aeroplane and a leaping tiger. The vast and charming painterly space of the murals both predicted and determined the large scale of the images and propelled him to add more.
Another work depicting a young boy playing flute, done in acrylic on canvas from the mid-90s, is a rare painting. It talks of a young boy seated amongst animals under a tree playing his flute. The tree hosts birds, a beehive and a large cobra, which too appears mesmerised with the tune of the flute. The painting is unconventionally divided in diagonal spaces with in which the central protagonist, according to Jyotindra Jain could also be a possible representation of the artist himself.
Raised with powerful sensibilities that were shaped by his memories from Patangarh, a place which he left behind, Jangarh created, a huge body of artworks in over two decades. His works are inhabited by gods and demons, shamans and priests, birds and beasts and sometimes creatures that dwell in imaginations. Thus the entire realm of memories that had remained dormant in his mind came alive through his imageries, as response to the new and alluring space of the paper, canvas or the walls that 'he turned into a vast and unique conjuror's archive', says Dr Jain.