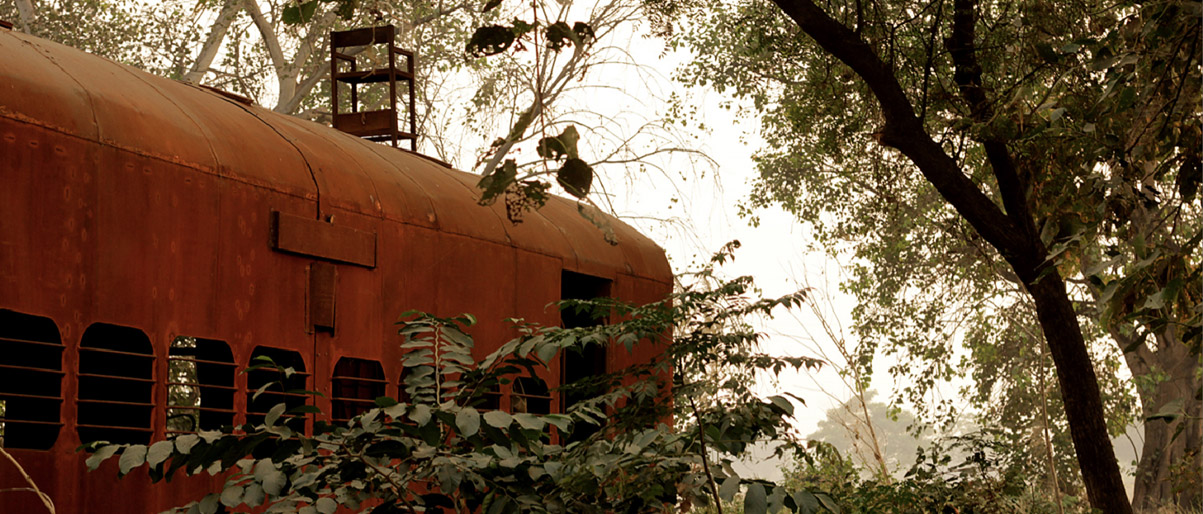 Amar Kanwar's latest film, which premiered in documenta 14 in Athens and Kassel in 2017, narrates a modern fictional parable about two people's quiet engagement with truth. In the feature length film a renowned mathematics professor retires, cutting his career short unexpectedly, and retreats to the wilderness to live in an abandoned train carriage. Thus starts an epic sensory journey into a new plane of emotional resonance between the self and the world around. Over time, the professor records his epiphanies and hallucinations in an almanac of the dark, an examination of 49 types of darkness.
Searching for a way to re-comprehend the difficult times we are living in, Kanwar asks "What is it that lies beyond, when all arguments are done with? How to reconfigure and respond again?" Such a Morning unlocks a metaphysical response to our contemporary reality as it navigates multiple hallucinations between speech and silence, fear and freedom, democracy and fascism.
The narrative of Such a Morning continues beyond the film into the installation that is presented here. The professor continues to write his letters – towards a research project with diverse artistic, pedagogic, metaphysical and political collaborations. These become the rubric for an evolving project, which are at the core of the series of Letters. The seven Letters presented here contain 17 film projections, 62 hand made papers and texts. The handmade paper for the Letters was made by Sherna Dastur at the Nirupama Academy of Paper, Kolkata, India.
The train coach built for the film remains in Delhi, a memorial for the teacher who refused to conform, who stepped off the tracks and wandered into the wild.
Such a Morning was edited by Sameera Jain, with cinematography by Dilip Varma, additional cinematography by Ranjan Palit, sound recording by Suresh Rajamani, additional sound recording by Julius Basaiawmoi and design by Sherna Dastur.
The film Such a Morning is produced with the support of the Kiran Nadar Museum of Art, Marian Goodman Gallery and Amar Kanwar Film Productions.
Special thanks to Roobina Karode and the KNMA team for making this exhibition possible here at the KNMA Cellar in Okhla, New Delhi.
ABOUT THE ARTIST
Amar Kanwar is an artist and filmmaker who lives and works in New Delhi.
Recent solo exhibitions have been at the Marian Goodman Gallery, Paris (2019); Marian Goodman Gallery, New York (2018); Luma Foundation, Arles, France(2018); Minneapolis Institute of Arts, Minnesota, US (2018); Tate Modern, London, UK (2018); Bildmuseet, Umea, Sweden (2018); and at Photo Kathmandu, Nepal (2018–19). Other solo exhibitions have been at Max Muller Bhavan, Mumbai, India (2015-16), FRAC Pays de la Loire, Carquefou, France (2016), Assam State Museum, India (2015), Art Institute of Chicago, Illinois, US (2013), Yorkshire Sculpture Park, UK (2013), TBA21, Vienna, Austria (2013), the Fotomuseum Winterthur, Zurich (2012), Stedelijk Museum, Amsterdam (2008), and the Whitechapel Art Gallery, London (2007). Kanwar has participated in Documenta 14, 13,12, and 11 (2017, 2013, 2007, 2002).
Amar Kanwar has been the recipient of awards such as the Prince Claus Award (Netherlands, 2017), the Leonore Anneberg Prize for Art Social Change (2014), an Honorary Doctorate in Fine Arts, Maine College of Art (USA, 2006), the Edvard Munch Award for Contemporary Art (Norway,2005), the Golden Gate Award, San Francisco International Film Festival (1998) and the Golden Conch at the Mumbai International Film Festival (1998).