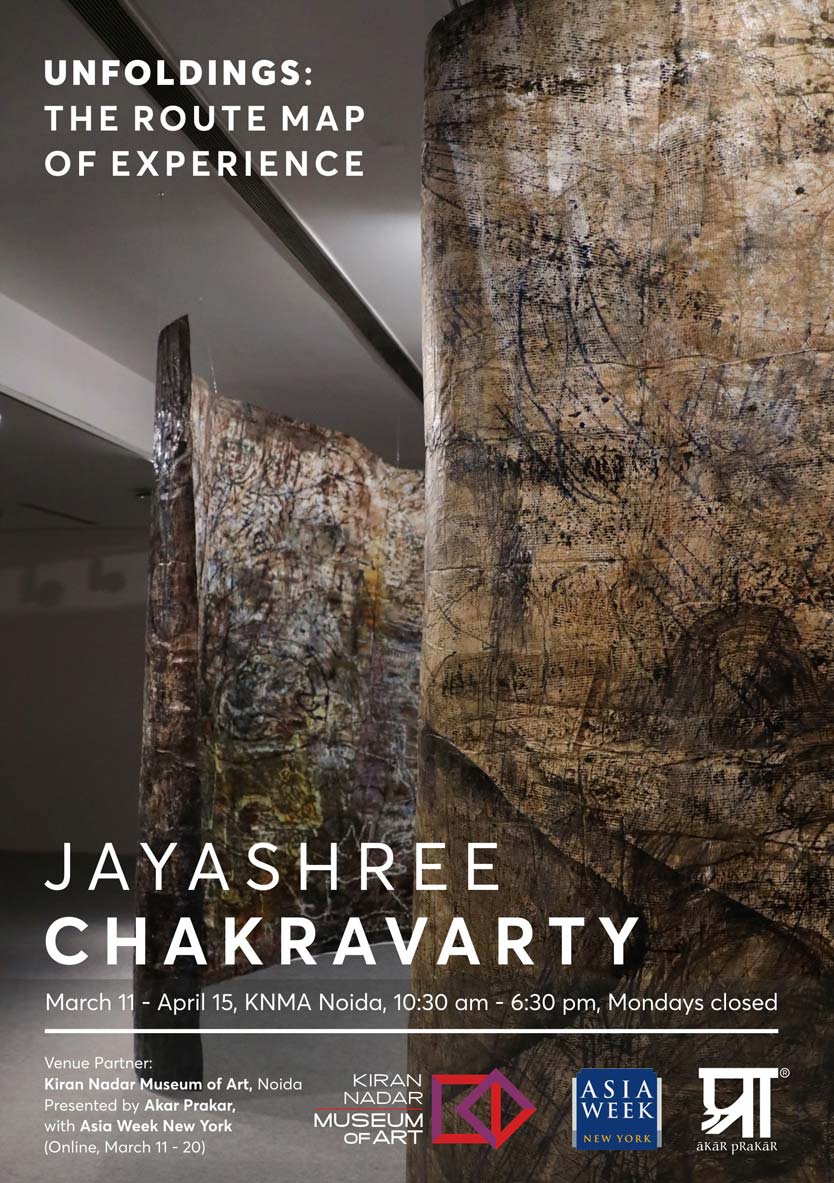 Unfoldings: The Route Map of Experience, a solo by Jayashree Chakravarty is presented by Akar Prakar, India, in collaboration with Asia Week New York (online), and KNMA, as venue partner. In the words of artist Jayashree Chakravarty, "This particular work, when I see it now, after almost eighteen years, I am pleasantly surprised because of the continuous imagery that I spread out in a very painterly way. The idea I worked with, was that I wanted to paint a land that can always stand in front of me. I was immersed in the act of painting and drawing simultaneously, indulging the over-all surface and its texture, overlapping close and distant views, memories echoing words in the encircling form. In making this, I wanted to create a kind of an interior space, an evocation of a sheltering cave or a womb.
Unfoldings: The Route Map of Experience | Jayashree Chakravarty
March 11 - April 15, 2021
KNMA-NOIDA

---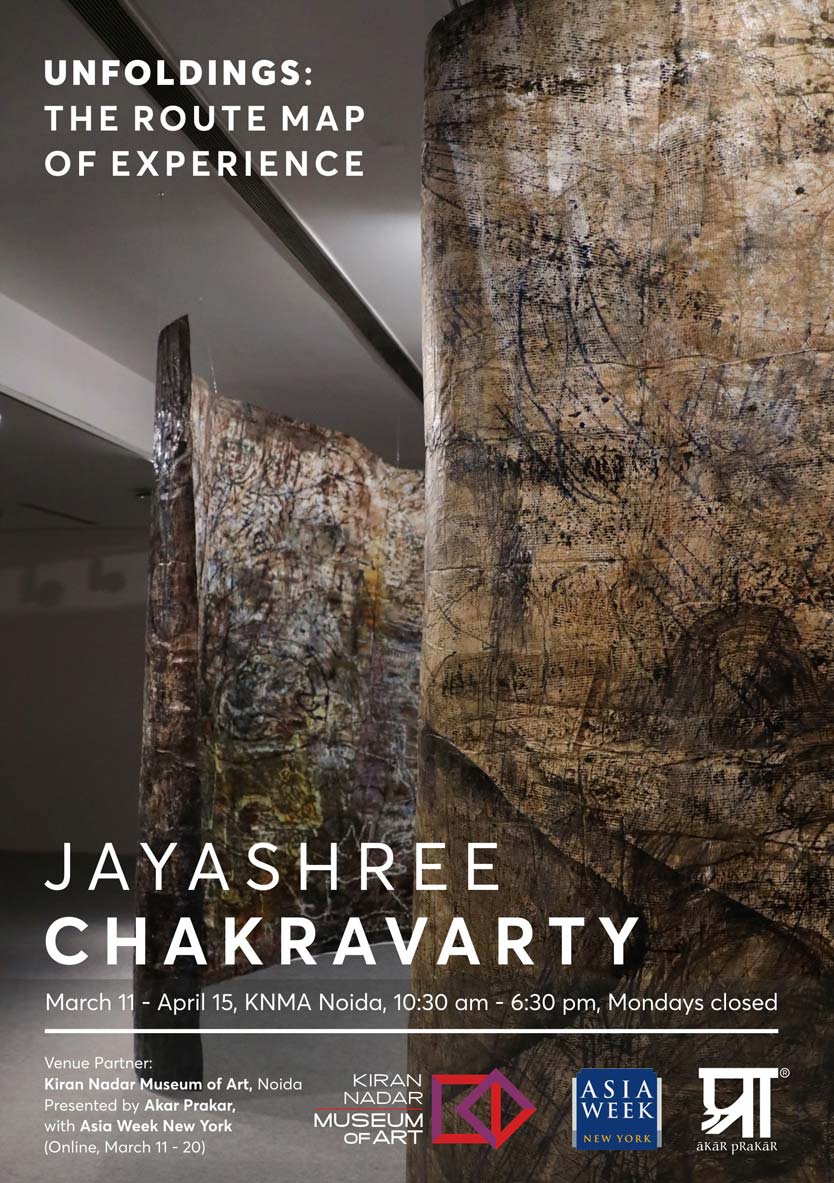 Unfoldings: The Route Map of Experience, a solo by Jayashree Chakravarty is presented by Akar Prakar, India, in collaboration with Asia Week New York (online), and KNMA, as venue partner. In the words of artist Jayashree Chakravarty, "This particular work, when I see it now, after almost eighteen years, I am pleasantly surprised because of the continuous imagery that I spread out in a very painterly way. The idea I worked with, was that I wanted to paint a land that can always stand in front of me. I was immersed in the act of painting and drawing simultaneously, indulging the over-all surface and its texture, overlapping close and distant views, memories echoing words in the encircling form. In making this, I wanted to create a kind of an interior space, an evocation of a sheltering cave or a womb.
Roobina Karode, Director and Chief Curator of KNMA, who has previously curated the practice of Jayashree Chakravarty at the Musée des arts asiatiques, Nice, and at the Musee Guimet in Paris, writes, "Jayashree's works are experiential - they invite touch, the immersion of the body and senses into the enveloping/unfolding monumental form. In this work done in 2002-3, she creates her handmade paper scroll stretched long to paint on an expansive continuous surface. The nearly sixty feet shape shifting wall-like structure made from the composite of different kinds of paper and fabric pieces, superimposed and glued, invites us, the viewers, into its enveloping space with an interior chamber. The work gradually reveals its various layers and overlapping imagery of the flux of life around us."
Karode adds, "It is indeed fascinating to see her work with a mobile vantage point, animating the gestural flow of whirling spaces painted on both sides of the scroll. What is worth noting in this particular work is how she has assimilated raw textures and colours of building material - stone, brick and mortar as well as those of earth, soot, limonite and red ochre found in natural shelters."
KNMA Chairperson Kiran Nadar says: "I really enjoy the way Jayashree responds and creates spaces in and around her work. Her imagery is evocative and affective. It draws the viewer into her multi-layered world. One is lost in the moving and swirling of images that seem to rise and collapse in her monumental scrolls, a remarkable invention in her distinct art practice."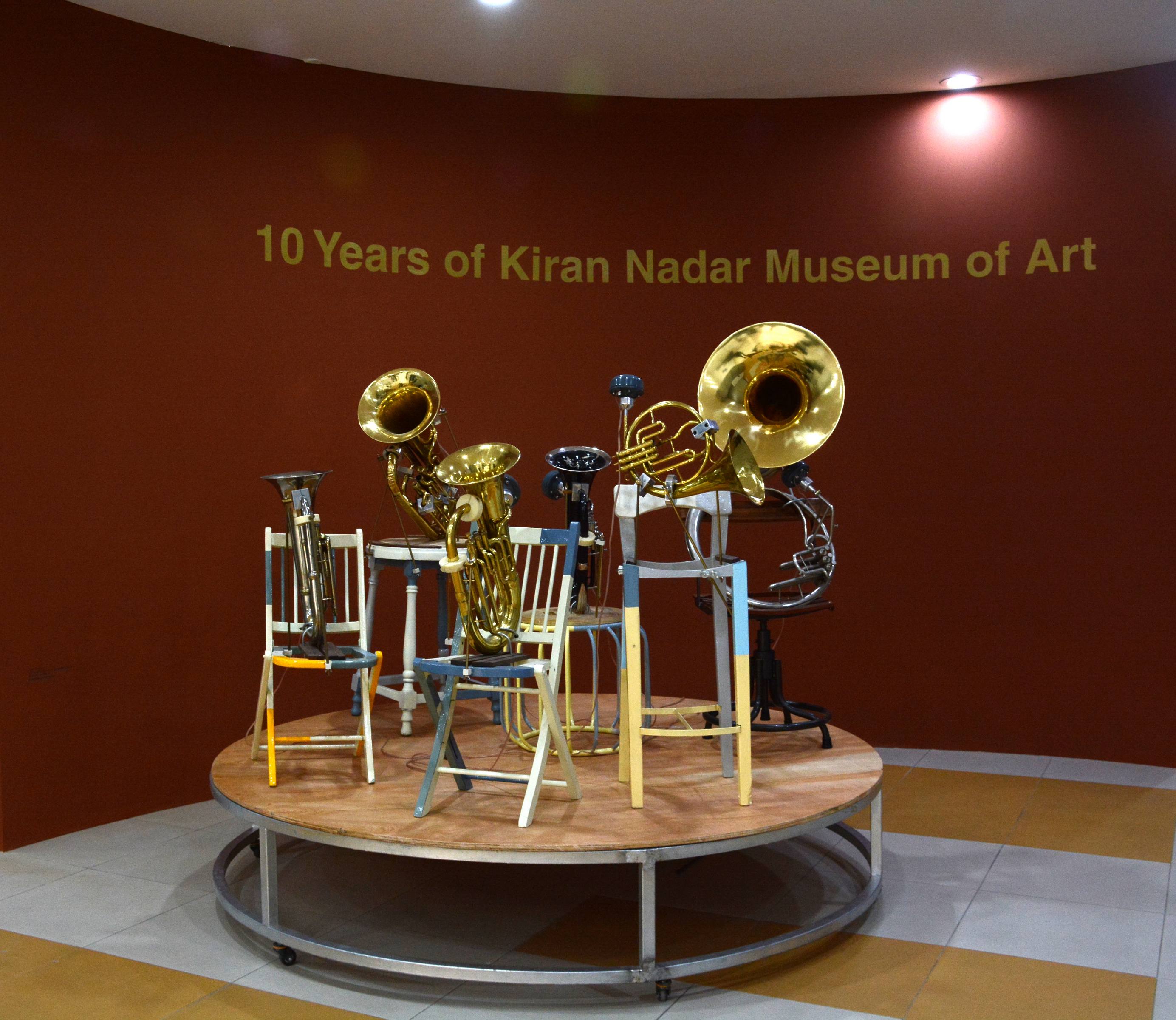 The Kiran Nadar Museum of Art turns ten this year.
We celebrate the past decade, bringing back vignettes that will highlight the museum's multi-focal vision, its evolving mission, directions and journeys undertaken, mapping intersecting histories of the subcontinent. Reflecting on KNMA's archive and collection built over the course of ten years of institution-building exercise and exhibition-making, this 10-years-exhibition reconsiders the complexities of inhabiting semi-permanent spaces, one inside a mall and the other in a technology hub. It explores the potential of a young coming of age institution in South Asia that is continuously plotting under-researched narratives, interventions, shared and collective experiences in art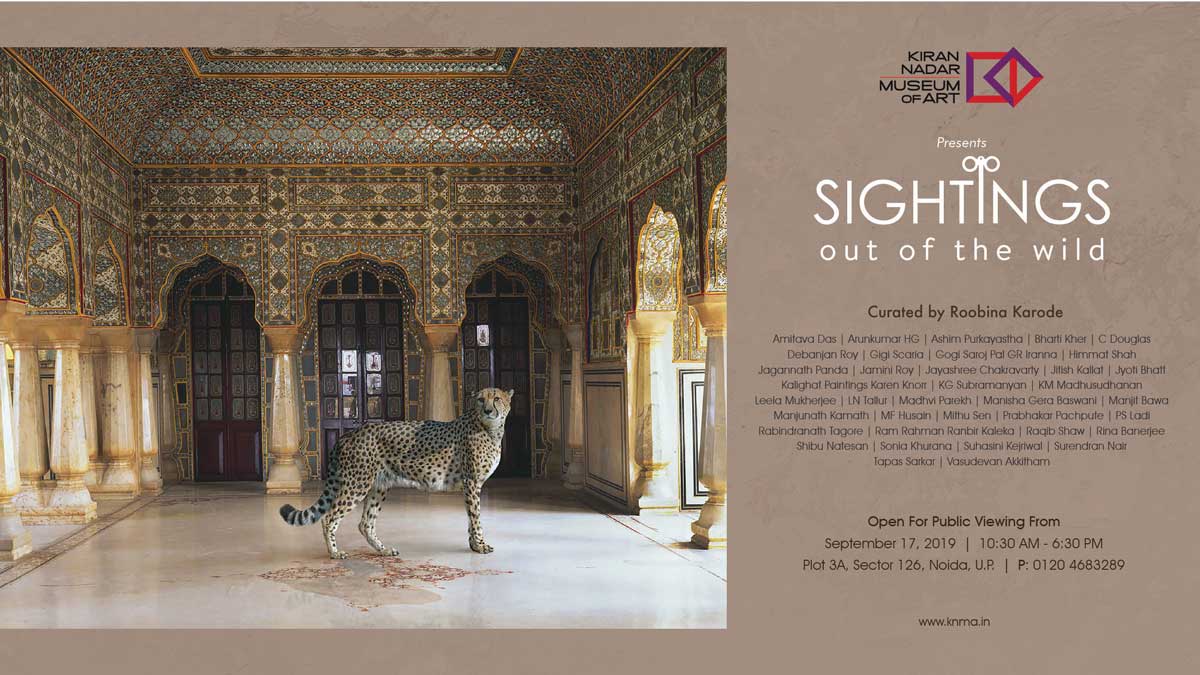 Amitava Das | Arunkumar HG| Ashim Purkayastha | Bharti Kher |C. Douglas | Debanjan Roy | GR Iranna| Gigi Scaria | Gogi Saroj Pal | Himmat Shah | Jagannath Panda | Jamini Roy | Jayashree Chakravarty | Jitish Kallat | Jyoti Bhatt | Kalighat Paintings | KG Subramanyan |KM Madhusudhanan| Karen Knorr | Leela Mukherjee | LN Tallur | Madhvi Parekh | Manisha Gera Baswani | Manjit Bawa | Manjunath Kamath | MF Husain | Mithu Sen | Prabhakar Pachpute | PS Ladi | Rabindranath Tagore| Ram Rahman | Ranbir Kaleka | Raqib Shaw| Rina Banerjee | Shibu Natesan| Sonia Khurana | Suhasini Kejriwal | Surendran Nair | Tapas Sarkar| Vasudevan Akkitham
SIGHTINGS: out of the wild, presents a selection of over one hundred and fifty artworks of forty artists from the collection of Kiran Nadar Museum of Art and other collections.
Out of place, a startled (living) cheetah within a palatial interior presents conflicting narratives. Is this a forced migration, loss of natural habitat or an accidental detour? A 'rinky-dinky' panther in its flamboyant pink body covered with sperm-shaped bindis is ready to leap at its prey or take off to seek life elsewhere. An elephant made of burnt wood excretes silver poop in an unusual case of esophageal reflux. The rhinoceros made out of reclaimed industrial packaging wood burnt and recycled paper pulp is trying to make its way into the room. It is already half-way there. Animals bring back to memory the stuff of childhood, the beauty of their form and texture, their capability to connect and respond to love and care and the desire to draw and shape them in material.
'Creatures of the mind and less of this world' frolic and lurk in the dark interiors of the subconscious. A conference of birds and beasts takes place against a semi-apocalyptic, cloudy and smoke-filled sky, derelict cityscape and a facade of an ancestral house, perhaps for arduous journeys yet to be undertaken. And, there we see the cockroach, magnified and beautifully detailed, precariously occupying the edge where sanitized floor and designed buildings confront the sensual lush of nature. The homeless sparrows flutter around a barren tree, while humans occupy the expanding cityscape with more skyscrapers and apartment homes. The endangered butterflies all seek refuge in a cocoon-form, a hide away place, far from the fear of humans. A hybrid, previously non-existent creature, snarls out from depleting agrarian economy of Rajasthan. The winged creatures in the absence of god, cast a spell of doubt amidst all glitters and the column of ants relentlessly move within the anatomy of a house, drawing lines and patterns routing cracks and corners.
'Sightings: out of the wild' highlights an existential void and our increasingly uneasy relationship with the natural/animal world- a splintered world that seeks renewal, contact and oneness with nature. It presents fables and allegories of the animal world that appear in human-centric tales and imagination; told and reflected through playful and critical contestations staged between human and other species.
The exhibition hints at the fissures, the trauma of encroachment, human neglect, signs of extinction, resistance and the reverse gaze of the other living worlds.

Artists: ganesh pyne . meera mukherjee. somnath hore .ganesh haloi . jogen chowdhury
The Kiran Nadar Museum of Art (KNMA) is pleased to announce the opening of the first exhibition of 2019, over the edge, crossing the line: five artists from Bengal, at KNMA Noida on 20th January 2019. The exhibition will continue till 30 June 2019.
Continuing the extensive explorations of different art movements, regions and artistic ideologies within South Asia, this year KNMA presents in-depth oeuvres and artistic inclinations of five modern masters from Bengal: Ganesh Pyne (1937 -2013), Meera Mukherjee (1928 – 1998), Somnath Hore (1921 -2006), Ganesh Haloi (b.1936) and Jogen Chowdhury (b. 1939). Coming from various parts of Bengal, their visual vocabularies reach maturity during 1970s and 1980s, with the city of Calcutta emerging as an intersection point. The social and political changes, witnessing and observing major occurrences like the Bengal famine, the Tebhaga movement, the Bangladesh Language Movement, the Vietnam War, and avant-garde mobilization in the creative disciplines of literature, cinema and theatre, has shaped their individual artistic styles and preoccupations. The chronological radius of the exhibition spans more than five decades from 1960s to early 2000s, showcasing more than two hundred artworks from KNMA collection and loans from artists and private collections.
The exhibition pursues the intensity and the edge at which these five practices seem to be located. It tries to look through the traces of what has remained or distilled through long duree process of artistic gesticulations on canvas or paper. Delving into the empirical and the subconscious, these five modern masters have created extraordinary visuals, meticulously ossified from the worlds seen and sensed. They take viewers on a journey to the unknown, and speak of both, longing and suffering, sometimes through direct representation of the real, and at times with allegories and obscure symbols. The exhibition oscillates between scenes soaked in half-light, colour fields, unbroken lines or contours of a figure, decay and poetic distortions, as if almost hiding the corporeal body and paving paths to view the body of a landscape.
Collective anxieties and turmoil surface often in interesting ways in this selected body of work. The exhibition explores how the transfigured, charged and complex imagery challenges rigid perceptions of viewing. With approximately thirty to forty artworks of each artist, the exhibition takes one through their unique journey from different phases of aesthetic formulations: from being chroniclers, appropriating the roles of narrator, illustrator, image makers and activists to being myth-shapers. A diverse range of techniques, mediums and configurations: paintings in tempera, gouache, watercolours, mixed media, ink and pastels, woodcut, lithography, etching and paper pulp prints and sculptures casted in bronze and plaster of Paris constitute this presentation.
For instance, Ganesh Haloi's untitled gouache works punctuated with sporadic yet minimal colour patches and hyphenated lines, transport the viewer to imaginary pasturelands. These transitory landscapes hold the memory of real pathways and evoke a sensory and spatial experience of movement. In an almost contrasting rhythm are Ganesh Pyne's quick jottings in pen and the multi-layered tempera works like Death (1975) or The Swim which falls between the real and the mysterious. Pyne, who has always been immensely drawn to water, creates these layers of dark undercoats of paint and then applies lighter colours to create mysterious effects, invites us to take detours from the surfatial. Meera Mukherjee's sculptural explorations of myths and decorative patterns, modelled with a certain solidity of wax, recreate her observations and learnings in bronze-casts techniques learnt from living with the craftsmen of Bastar. Her sculptures like Nagardola (Ferris wheel) or Srishti depict the cyclical rhythm of human survival.
In Jogen Chowdhury's Gulabi Takia (1977-80) made in ink and pastel on board, or A Couple (1984) painted in ink and pastel on paper, one sees the tender or uneven contours of human figures made with intricate crosshatchings. They lack firmness as if mirroring the deformation of societal structures. Somnath Hore's figures, studies and symbolic open wounds tend towards minimal forms. He pulls our attention to the emaciated bodies who are delicately etched between hunger and fasting. His Wounds (1973), the paper pulp prints, though echo the memories of violence in Vietnam war, are reflections on human existence and the sufferings from man-made wars and scarcities.
OPENING PREVIEW: 20 January 2019, Sunday, 6.30 pm onwards
KNMA-NOIDA, Plot 3A, Sector 126, Noida, U.P.
Exhibition Dates: 22 January – 30 June 2019
Closed on Monday and Public Holidays, 10.30 am – 6.30 pm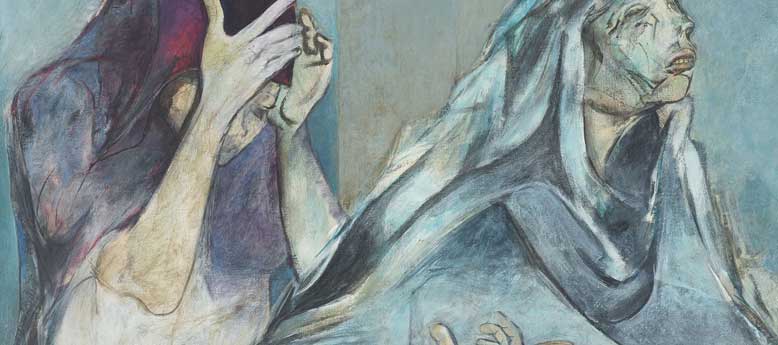 NEW CONFIGURATIONS vignettes from the collection in recent years
A Ramachandran, Aisha Khalid, Akbar Padamsee, Arpana Caur, Aipita Singh, Avinash Chandra, Ayesha Sultana, Biren De, FN Souza, GR lranna, Gulammohammed Sheikh, Hema Upadhyay, Himmat Shah, Imran Qureshi, J Sultan Ali, Jagannath Panda, Jamini Roy, Jayashree Chakravarty, Jehangir Sabavala, KK Hebbar, Krishen Khanna, Laxman Pai, Mohan Samant, Meera Mukherjee, Mrinalini Mukherjee, Nalini Malani, Nilima Sheikh, Prabhakar Barwe, Pushpamala N, Ram Kumar, Reddeppa Naidu, Rekha Rodwittiya, Somnath Hore, Surendran Nair, Tyeb Mehta, V Ramesh, Zarina
This exhibition is dedicated to the memory of eminent artist Ram Kumar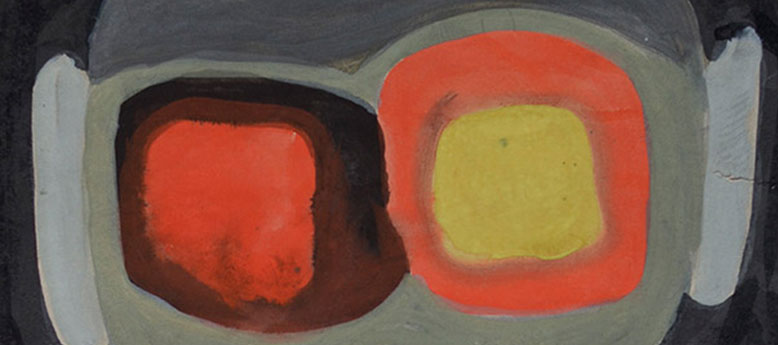 Participating artists:
Anandmohan Naik, LN Tallur, College Backyard, Amitesh Grover and Arnika Ahldag, K. Ramanujam, Sanchayan Ghosh and Monogobbet Society, Shaina Anand, Ashok Sukumaran, Pad.ma, Desire Machine Collective, Cholamandal Artists, Village, Baroda Fine Arts Fair, Weavers, Service Centre, Pablo Bartholomew, J&K Academy of Art, Culture and Languages Sarai Reader 09, CAMP, Santhal Family, Open Circle, K.G. Subramanyan, Gagan Singh, Prabhakar Barwe, Nicholas Roerich, Haku Shah, Stella Kramrisch, Rags Media Collective, R.V. Ramani, Govind Nihalani, Paribartana Mohanty, Astitva Collective, Group 1890, Mochu Bhule Bisre Kalakar Cooperative and Rajeev Sethi, Inder Salim and Shantanu Lodh, Shveta Sarda J. Swaminathan and Akhilesh, Bharat Bhawan, WALA, Ram Rahman, Richard Bartholomew, Umesh Madanahalli and CAVA students, V. Arnawaz, Jyoti Bhatt, Meera Mukherjee, Harkat Unedited, Calcutta Group, SAHMAT, Siddhartha Chatterjee, Anonymous
The main protagonist of the new exhibition 'Hangar for the Passerby' at the Kiran Nadar Museum of Art, Noida is the transient figure of the Passerby. The exhibition is an assemblage of collectivities, collectives, collaborative practices, and moments of transference across generations and groups of artists practicing in India. It highlights contexts, emotional investments, challenges and schema of artistic collaborations and sociality, through juxtaposition of different models and attempts of coalescence as proposed by different artists.

At the heart of the exhibition is a souvenir shop that makes the museum a meeting ground and criss-cross of institutional histories of Bharat Bhavan, Kala Bhavan, J&K Academy of Art, Culture & Languages, Kala Bhavan and Fine Arts Faculty of Vadodara. It proposes re-visitations of certain historical moments, speculating and re-enacting spatial dynamics of collectivity. Some of the groups, collectives and contexts that will be brought into discussion are Cholamandala Artists' village, Weavers' Service Centre, Baroda Art Fair, Astitva Collective, Sahmat, Open Circle, CAMP, Sarai Reader 09 etc. Within this meshwork and interlacing, the exhibition also presents instances of formal and informal pedagogical exercises, workshops and participatory acts, facilitated by many artists in institutional spaces.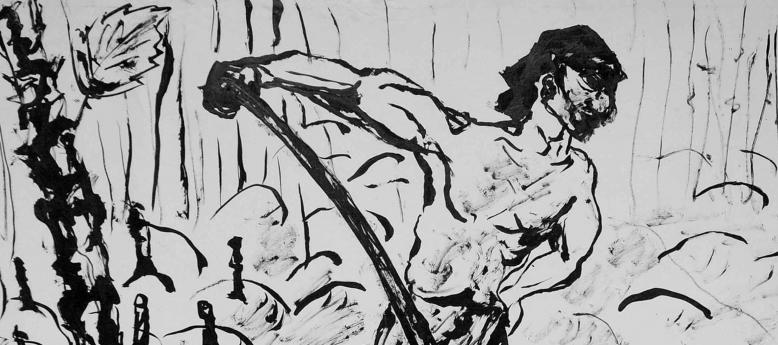 Participating artists
C.K. Rajan, K.M. Madhusudhanan, K.P. Krishnakumar, N.N. Rimzon, and Surendran Nair
Pondering their strong Marxist idealism, artists from the Government College of Fine Arts, Trivandrum/Thiruvananthapuram in Kerala in the late 1970s-1980s were convinced about the need for radical thinking and dissent, resisting neo-colonialism, prevalent superstitions and rituals, an obsolete education system and the commercialization of art. Their rebellious spirit of the time is revealed in the puffed rings of smoke from the burning cigarette, lost in thought portraits, reading books, dreaming utopia while participating in acts of protest. Like nocturnal birds, they sat vigilant under the starry night, watching the moon in the sky, amidst the sensual lush landscape of Kerala, where the pond and the fields and the roadside shrine remained steeped in the mystique of the place. Sketching on tissue papers, painting on cigarette packets, making collages from newspaper cutouts and magazines, these artists continued to explore the intensity of charcoal, graphite and ink, and also the accessibility of prints. Inspired by literature, cinema and theatre, they shared stories, the recurrence of poetic symbols and world-histories, techniques and tools while seeking a range of expressive and aesthetic possibilities, each one alone, yet together. We see the absurdities of humanity unleashed in the black and white film-like stills in charcoal by Madhusudhanan, the dark, tragic soul of Krishnakumar's heroic man, the subaltern figure of N.N. Rimzon amidst confining circumambulating boundaries, the political wit and satire of C.K. Rajan's collages and the quirky whimsicality of Surendran Nair's, sharpened through the witty play of words and images. Their growing camaraderie is witnessed in the portraits painted of each other and the spaces they occupied in the absence of individual artist-studios and financial support. The exhibition brings into focus the works of five artists who spent their formative years in Kerala and whose subversive art practice problematised the discourse of Indian Art in the 1980s and 90s.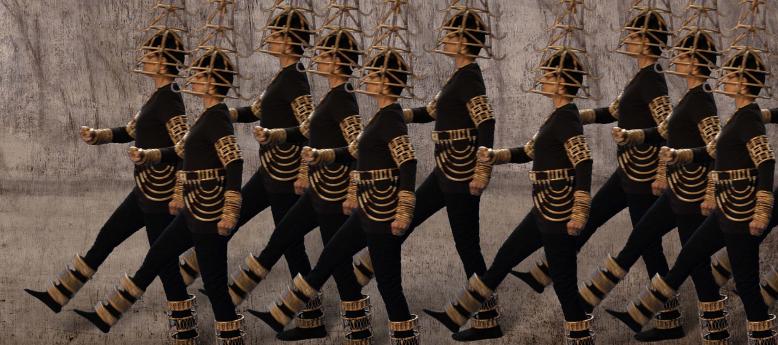 Participating Artists:
Archana Hande, Bani Abidi, Gigi Scaria, Hitain Patel, Paribartana Mohanty, Pratul Dash, Rashid Rana, Rohini Devasher, Shakuntala Kulkarni, Sheba Chhachhi, Shilpa Gupta, Sonia Khurana, Ranbir Kaleka, Vishal Dar and Vivan Sundaram
The Kiran Nadar Museum of Art is pleased to present for the first time an exhibition dedicated only to video works. The exhibition 'Enactments and each passing day' is presented conceptually as a choreography of scenes, actions, staging/s, sites and journeys by fifteen contemporary artists from different generations. It unfolds in loops various enactments in the form of single-channel and multiple-channel videos, video-sculptures, and large video installations. The exhibition showcases many important works from the collection including Ranbir Kaleka's 'Man Threading a Needle' (1998-99) and Bani Abidi's trilogy of videos 'Mangoes', 'Anthem' and 'News' (1999 -2001), Vivan Sundaram's 'Black Gold' (2014), Shakuntala Kulkarni's 'Julus' (2015) and Sonia Khurana's 'Head Hand' and the 'Surreal Pond'.
The exhibition offers journeys to unknown, real and imaginary terrains, that are speckled and marked with discreet and abstract presence, such as that of Shakuntala Kulkarni's army and procession of multiple selves/bodies in her immersive four-channel video work 'Julus' and Sheba Chhachhi's mammoth elephant submerging or dissolving in water in her video 'Water Diviner. Archana Hande's video installation 'The Golden Feral Trail'' is transforming the West Australian horizon into a screen displaying stories of nomadism, economic relations and loss of cultural identity. From Vivan Sundaram's bed of detritus that refers to the fabled city of Muziris, the viewer is taken to a strange forgotten abandoned outpost of Second World War off the U.K. coast, marked by huge metallic structures in Rohini Devasher's video.
The exhibition contests the established binaries between rigidity of statehood and borders, and the everyday, iconic and the frivolous, Mao and Gandhi, physicist and a miniaturist, artist and his double. These enactments performed by actors/non-actors or artist-performers amidst a crowd or in solitude, in a ruin or remote landscapes, inside a workshop or a public space, are mappings of 'returns to the everyday'. The exhibition speaks through ascents and accents, dissolutions, dislocations, territorial claims, apocalyptic signs, body and the double, and public icons, inducing one to read simultaneously the readily visible and the suggested gestures.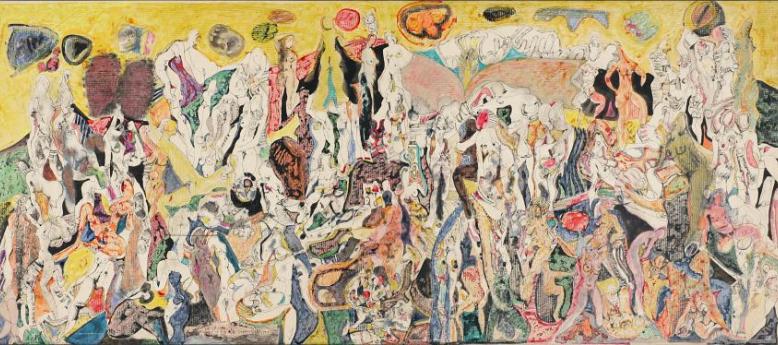 Bhupen work in the image panel: TWO MEN, 1993, oil on canvas
Participating Artists
A. Ramachandran, Akbar Padamsee, Anish Kapoor, Anjolie Ela Menon, Arpita Singh, Atul Dodiya, Avinash Chandra, Bhupen Khakhar, Bikash Bhattacharjee, F.N. Souza, G.R. Iranna, George Keyt, Gulammohammed Sheikh, Jagannath Panda, Jagdish Swaminathan, Jamini Roy, Jogen Chowdhury, M.F. Husain, Manjit Bawa, N.S. Harsha, Navjot Altaf, Nicholas Roerich, Raja Ravi Varma, Ram Kumar, Rameshwar Broota, Raqib Shaw, Rashid Rana, Ravinder Reddy, S.H. Raza, Sakti Burman, Satish Gujral, Shahzia Sikander, Shibu Natesan, Subodh Gupta, Surendran Nair, T.V. Santhosh, Tyeb Mehta, V.S. Gaitonde, Venkat Bothsa, Vivek Vilasini
The inaugural exhibition 'Open Doors' literally opens up the private museum and its collection to the larger public, presenting the extraordinary works that Mrs. Kiran Nadar has collected over the last two decades. As a metaphor, 'Open Doors' is emblematic of the revelatory power of works of art, inviting us to enter intriguing and intangible spaces, where memory and imagination, dream and reality, past and present often collide to recreate a new world. The exhibition brings to the public seminal works that mark historically relevant moments in 20th century Indian art.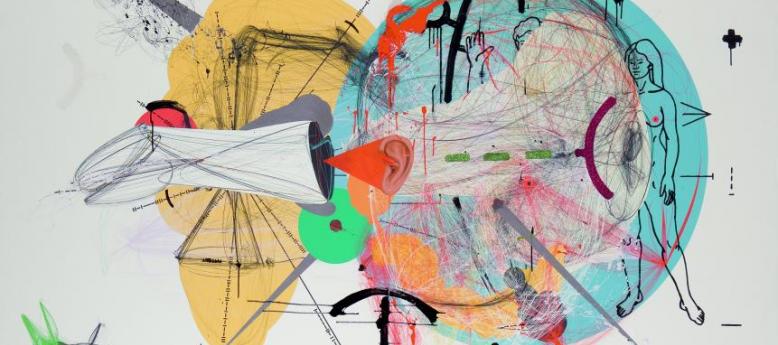 Participating Artists
Abhishek Hazra, Aditya Pande, Asim Waqif, Abir Karmakar, B.M. Kamath, Gauri Gill, Gigi Scaria, Lavanya Mani, Mithu Sen, Nandini Valli Muthiah, Prajakta Palav Aher, Pooja Iranna, Praneet Soi, Rohini Devasher, Raqs Media Collective, Sarnath Banerjee, Seher Shah, T. Venkanna
The exhibition signals technology's place in a massive global change in the flow and reception of information. It is technology that serves democratic art forms, from social messaging to video-sharing and social media to serving micro banking in women's cooperatives in India and Bangladesh. At the same time, technology challenges the museum as it constructs an archive, leading the past into the future. Technology as the driver of invention challenges the aura that art confers on an object. Responding to the space based in a technology hub, artists have revisited industrialization from the 19th century to the present day with wit, irony and critique. The many stages of invention that signal modernity here intersect with contemporary views of design, architecture and film. The arts works invoke a sensory response to the environment, a return to tactility and natural materials. Cynicism is tempered with nostalgia and the poetics of a vanishing beauty.
Pages