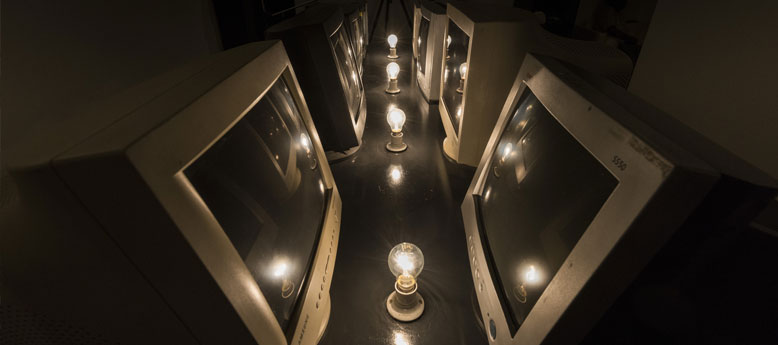 Alia Syed | Amar Kanwar | Kausik Mukhopadhyay | Mithu Sen | Naeem Mohaiemen | Neha Choksi | Nalini Malani | Nandita Kumar | Ranbir Kaleka | Shahzia Sikander | Sheba Chhachhi | Shezad Dawood | Sonia Khurana | Sudarshan Shetty | Vibha Galhotra | William Kentridge
Engaging with videos or films in a dark or semi-dark space, where things come closer to life or create a world of their own, the presence of colour, touch, sound, movement, apparitions, light and shadow, draws one into a complex technological environment. One is moved by the potentiality of the mediums used by artists, their diverse and occasionally precarious themes processed through the intricacies of looped time and nuanced languages. The world of today is disenchanting and distraught, yet alluring and demanding, desiring poise and equilibrium.
The exhibition Delirium/Equilibrium brings together transitory and intermediary states of incoherence, anxiety and excess, amplified in the disorienting acts of gibberish noise speech, unsettling animated/mechanized objects, a dizzy virtual journey into the meandering paths of a landscape, echoes of long drawn political speeches and quiet inner struggles of seekers/protagonists. Varied durations, scale and approaches can be seen at play, ranging from a rare eight channel video installation, a forty-five feet long projection, an eighty-five minute long film to a twenty-four feet long table-top with kinetic objects.
The participating artists present poetic ambivalences and blurred visions of the present, broaching the subject of life, the depths of darkness, illuminating the need for a rewiring of the world. With isolated gestures, stand-alone episodes, sites of failure and mysterious realms, the exhibition offers a setting for a philosophical reading of the present moment, politically and socially.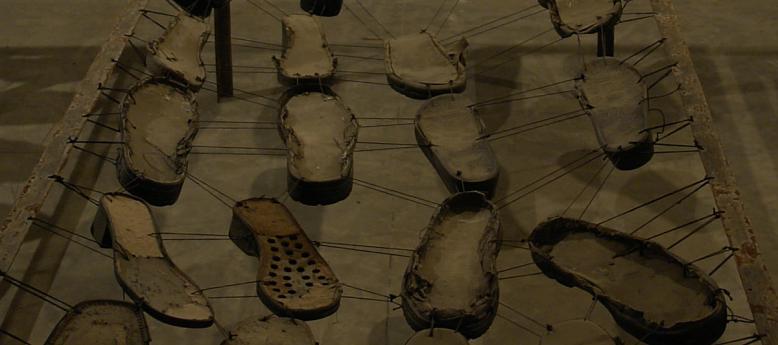 KNMA is presenting this year, the first ever retrospective of eminent artist Vivan Sundaram, one of the most influential artists of his generation in India. This large-scale exhibition is an extensive showing of his multimedia practice, bringing together many of his rare and key works and experiments, reflecting on his take away from Modernism, elements from Pop and Kitsch, moving away from the centrality of painting to take a conceptual turn. There are around 180 artworks on display, which include drawings, paintings, sculptures, collages, photo-montages and installations created over a period of five decades. It showcases his early works such as the pop and kitsch paintings (1965-66), Macchu Picchu (1972) series of drawings, engine oil drawings and installation (1991) to his most recent co-authored projects 409 Ramkinkars (2015) and Meanings of Failed Action: Insurrection 1946 (2017). Most of his early works will be in the public view after a gap of almost thirty to forty years.
Titled after one of Vivan's paintings 'Step inside and you are no longer a stranger' which is part of the Punjab University Museum collection, this eponymous exhibition invites a poetic step from the spectator. At times, a provocateur seeking participation and collaboration, and sometimes acting as an interlocutor, Vivan has continuously attempted or staged immersive situations and spatial structures for the viewer through his installations. It is the spectator that holds the centre. The exhibition is animated with gestures and narratives that address the topical, the historical and the personal, alongside marking the cusp of significant shifts in the history of modernism in India.
In his large installations such as 12 Bed Ward, River carries its past and 409 Ramkinkars on display in the exhibition, he traverses through the industrial landscape and discards, oil grids, things sourced from local flea markets and second-hand markets to fragile terracotta recasts of modernist-master-sculptor Ramkinkar Baij's famous sculptures Santhal Family and Mill' Call. The exhibition highlights Vivan's acts of doubling and re-evaluating. References to journeys through repetition of the motifs of boat and a house as a shelter for the migrants or just the adventurous ones who have ventured far away. With his installations Vivan offers a temporary halt to the stranger he seeks.
Preparing for his Retrospective exhibition, Vivan Sundaram says: "This exhibition presents the themes I have engaged with, but it also proposes structures that hold things together in retrospect: via the work, the exhibition layout, and spectator itineraries. 'Step inside and you are no longer a stranger': the exhibition's title reflects the conflicting dimensions of my practice."
On the occasion Kiran Nadar, Founder & Chairperson, KNMA, says, "Vivan Sundaram's exhibition marks another major moment in the eight years of institutional presence of KNMA. The retrospective of this scale and kind has led to loans from 42 private and public collections from all across the country and overseas. We are glad to present this rare and extraordinary feat of fifty years of work of this highly celebrated and influential artist, put together for the first time. We have taken up the daunting task of coherently presenting such a prolific and wide ranging oeuvre. It is a show which is going to be remembered for a long time."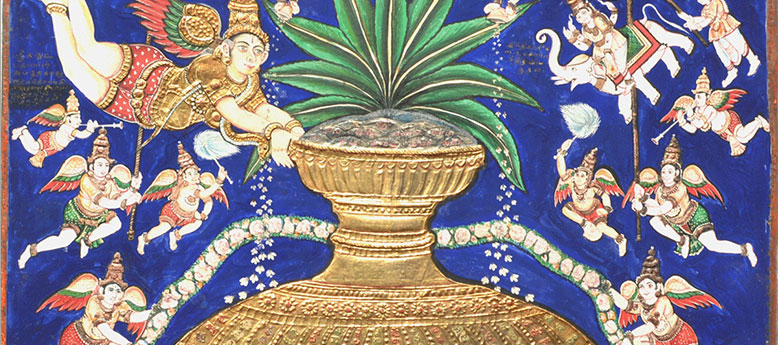 The month-long special exhibition 'Amruta kalasha' brings to public viewing for the first time a rare collection of 19th and early 20th century paintings from Thanjavur, Mysore, Andhra, and Kerala. Acquired gradually with discernment over a period of five decades by architect and town planner Kuldip Singh, this extraordinary collection of 200 paintings celebrates his passion and deep engagement which started alongside his work trips to South India in 1973. The rich tradition and content of these paintings introduce an exciting bind of rituals, mythologies, iconographies, connecting the deities, devotees and the donors, within the architectural setting of temples and other sites.
Kuldip Singh further explains the nuances of the paintings from his collection, 'Thanjavur painting encompass Hinduism's three sacred entities in a single graphic frame viz. the sthala, the place where the deity manifests itself to the devotees, the temple precinct, i.e. the architectural complex of sacred shrines linked by parikaramas and the dhruva bhera, the immovable image, i.e. the deity enshrined in the garbha griha. The notion of sthala, place, is fundamental to the concept of Bharat, India, as a sacred geographic entity. The concept implies an imagined cultural landscape of rivers, mountains, forests, seashores and lakes where mythic persona are believed to have either manifested themselves or performed historic miracles. These locations known as Sthals are by popular usage now unified by a network of functional routes. The temple shikhara is an object of worship as it shelters the divine murti, while the murti itself embodies the attributes/potentialities of an all-pervasive, all-powerful god. Thus, inspired by the myths connected with the sthala, the temple and the deity enshrined within, the Thanjavur artist aspires to transmute their inner meanings into a composite whole.'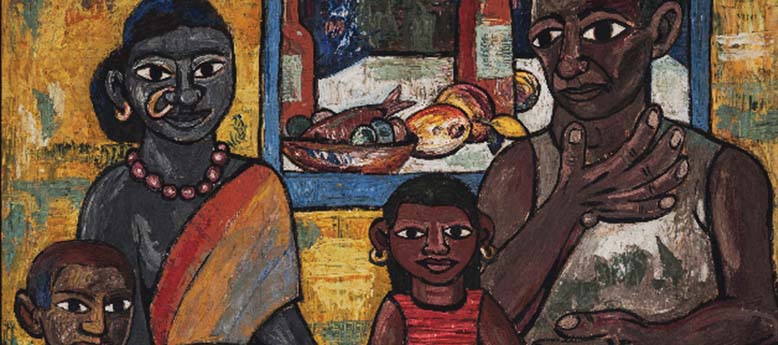 Participating artists
M.F. Husain, S.H. Raza, F.N. Souza, Madan Mahatta, Raj Rewal, Mahendra Raj, Kuldeep Singh, Habib Rahman, Kanvinde, Akbar Padamsee, Ashim Ahluwalia, Nalini Malini, Nasreen Mohamedi, Navjot Altaf, Pushpamala N., Mithu Sen, Atul Dodiya, Parthiv Shah
The string of exhibitions under the title 'Stretched Terrains' are woven out of different ingenious pursuits, proposals, and vocabularies that emerged in the context of the decades following independence. With its simultaneous seven uniquely interrelated yet independent exhibitions, 'Stretched Terrains' cuts across architecture, painting, films, and texts in the form of letters, sketchbooks, and discursive writing. It introspects on varied ideas around progress and progressive, developing the existent urban, strengthening of the rural and the making of the 'nation-state'.
The three artists from the Progressive Artists' Group in Bombay M.F. Husain, F.N. Souza, and S.H. Raza shown individually represent the plurality of expression among a collective that despite being short-lived, had a lasting camaraderie, defying its own manifesto that often slots them in a definite box. These three solo exhibitions present rare artworks mostly from the formative period, and highlight their diverse seeking, different personas, and intense journeys. Heroic, rebellious and self-important, they represent what has been dubbed the phase of the 'male moderns' or male-driven modernism in India. Conversely, we have the three contemporary women artists, Pushpamala N., Navjot Altaf, Mithu Sen who alongside Atul Dodiya, engage with the cultural past, play on inheritance and resistance, critiquing it as they develop their own language of dissent and difference in the exhibition 'Interpositions: Replaying the Inventory'.
Also, part of the sequence is a special exhibition on modern architecture of Delhi, a focused perspective on the Vision Exchange Workshop organised by artist Akbar Padamsee in 1968-69, and a photography exhibition of Parthiv Shah (Sadak.Sarai.Sheher.Basti) of his documentation of MF Husain in early 1990s. In 'Delhi: Building the Modern', Raj Rewal's remarkable architectural conceptualization of iconic 'Hall of Nations', and extraordinary feats achieved in the buildings designed by architects Kuldip Singh, Habib Rahman and A.P. Kanvinde between the 1960s to 80s, are presented alongside the structural and engineering drawings of Mahendra Raj. The architectural photography of Madan Mahatta charts the scale, innovation, and the contexts of modernization in Indian architecture.
Another trait of the exhibition is to draw attention to a disrupted continuity as seen in the reconstruction of Akbar Padamsee's lost film 'Events in a Cloud Chamber' by filmmaker Ashim Ahluwalia, the first time use of modern technology by women artists (Nalini Malani's films and photograms by Nasreen) or in the playful insertions by Pushpamala in her series of photo-performances 'Native Women of South India'.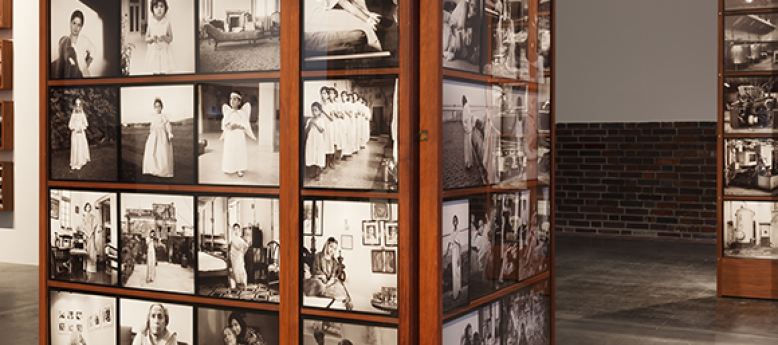 Dayanita Singh has been preoccupied for some years now with evolving a portable architectural form that can function both as a site for display, and a repository for her photographs. Museum Bhavan are conceived as mutable structures with extendable limbs that are self-sufficient assemblies designed to display, preserve, and store her photographs while in rest. The artist physically maneuvers these flexible structures to transform into facades, columns, doors, niches, and empty scaffolds, altering their orientation and position in relation to the exhibition space. Though the designed grid is predetermined in its square and rectangular frames, the image-sequence is never meant to be either permanent or complete. The re-energizing of navigational paths and reconfiguring of images dismiss a singular interpretation or a permanent composition of the Museum Bhavan. The visual spectacle takes on the dimension of photo-architecture, ruptures a complacent optical viewing of the photographs, both physically and conceptually, accentuating shifting angles of perception, obstructive viewing, overlapping of grids and sometimes empty frames, bringing into active play the experience of the inside and outside, back and front, body and space. The labyrinth of images, never complete from any single viewing position facilitates a sifting through time. Its linearity is displaced by the reshuffling of memories and moments, allowing chance encounters and the discovery of fresh associations between the unexpected to take over in the placing and replacing of the photographs. The viewer's vantage point is unsettled and always vulnerable with Dayanita expanding the possibilities of composing, viewing, and interpreting images in endless ways. The exhibition presents Dayanita's "museums within the Museum" as self-sufficient structures that function as sites of display, preservation, circulation, and storage along with bringing together photographs spanning decades of her artistic oeuvre.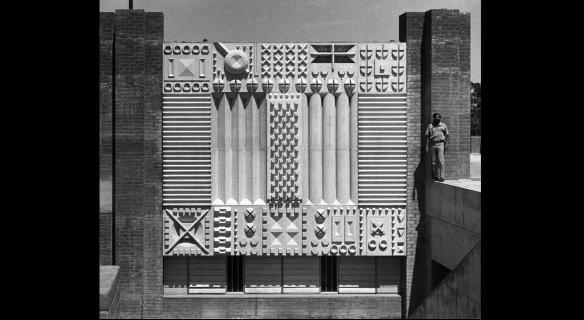 Looking at a seed can you imagine the entire tree? One who can imagine the tree looking at its seed and the seed looking at the tree is a reflection of a true artistic vision. - Himmat Shah
A hammer (sans hand) elegantly fixed onto a cube (sans mass). The gravitational connect between the distinct geometries of the two forms catapults one into an arbitration of potentialities created by the artist. Kiran Nadar Museum of Art (KNMA) is pleased to present the first ever comprehensive showing of eminent artist Himmat Shah through the decades from 1957 to 2015. This exhibition is a celebration of Himmat Shah's solitary pursuit and his inspiring nomadic life lived under an open sky that transformed into a recurrent poetic metaphor of the vastness and infinity of space in his work. It celebrates his prolific and rich oeuvre that has never been seen together in its entirety. Tracing and underlining Himmat Shah's contribution to the discourse of modern Indian art, the exhibition presents around 300 works with 215 from the KNMA collection and loans from various public and private institutions and collections. Along with his famous terracotta sculptures, bronzes, and drawings, it brings to light his lesser-known mediums and extraordinary body of works—high-relief murals, burnt paper collages and silver paintings—hardly seen by the Indian art fraternity and public at large. 'Hammer on the Square' highlights key ideas in Himmat Shah's works: fragility and transience of existence, the heightened relationship between ephemeral layers and stasis, His intense connect and understanding of materials and the material world, echoes of lost civilizations and cultures. 'Hammer on the Square', the exhibition is in continuation with the Nasreen Mohamedi's Retrospective (2013) and precursor to the forthcoming show of Jeram Patel (August 2016) at KNMA. It is an avenue for opening up the dialogue on Indian modernism, in with particular emphasis on two decades—1960s and 1970s—by bringing large body of works of these three artists to the public domain. It proposes a reshuffling of ways of viewing Himmat's works, actively situating his practice among his peer-group of artists, and the study of abstraction.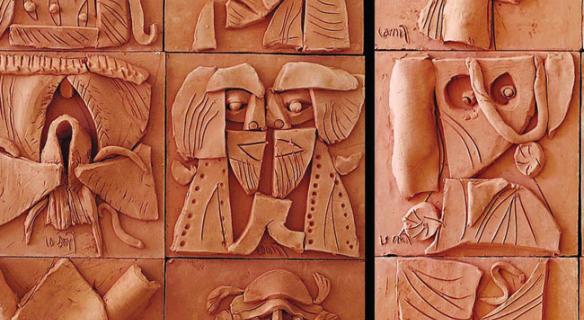 The Kiran Nadar Museum of Art is pleased to present an exhibition celebrating the spirit of late artist K. G. Subramanyan who passed away on June 29, 2016. The exhibition presents to the viewers' glimpses of the artist and his versatility as a thinker, pedagogue, poet, scholar, and an institution-builder. It includes 60 artworks from the KNMA collection, as well as some taken on loan from private collections, his writings, poems, and children's book illustrations, reproductions of letters written to stalwarts like Kamaladevi Chattopadhyay, Jyoti Basu and Benodebehari Mukherjee, and a video of images and material from his archives digitized and facilitated by Asia Art Archive. His art practice embraced and expanded the use of an array of materials and mediums, where even scribbles, doodles, and sketches were instrumental in evolving an extensive visual vocabulary.
The exhibition also brings to focus his early works done in late 1940s and 1950s. According to the curator Roobina Karode, "This exhibition celebrates the versatility and fabular adventures of the legendary artist. It puts one in the company of the vivid storyteller, the pied piper, the puppeteer-magician who playfully tricked his images into performative gestures, animating them with the stroke of his brush. K.G. Subramanyan's oeuvre represents conceptual richness and a remarkable deftness of his craft. His early works from the 1940s onwards emphasize his alert eye and receptive mind, responding to a spectrum of optical references from disparate traditions, evocatively drawing and painting schematic figures, motifs, signs and gestures, seeking equivalents of all experiences in a visual language. Our attention is drawn to the nuanced play between the graphic and painterly, precise rendering and freer brushwork, surface patterning and structural design, the decorative and expressive, working towards evolving a syncretic pictorial language. The formal and spatial articulation in Subramanyan's work thrives on strategies of hide and seek, the opening of windows and closing of doors, prompting our gaze to peep inside and then step back to witness from a distance 'the unfolding of multiple stories'. The exhibition brings together his first experiments in the medium of oil, for instance, in the Mother and Child painted in 1953, some works on silk and on board as well using gouache with a varnish. Viewers will enjoy the visual subtleties expressed in his reverse paintings on glass and acrylic, a medium he mastered and became an influence for artists from successive generations. The title of the exhibition 'Anatomy Lessons' thus addresses the artist's play with figuration, his myriad ways of drawing and painting life as it unfolds each day, rephrasing and reconfiguring his observations and awareness about the natural, animal, and human world. In a literal sense and as a response to the precarious world he witnessed in his later years, it highlights human atrocities through dismemberment in this terracotta frieze, with fragmented limbs and severed bodies, ripped apart in the streets, visible not too far from the window of one's home."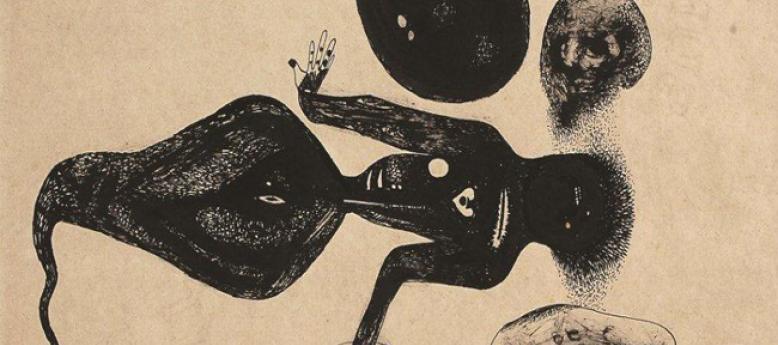 KNMA the first-ever retrospective of the veteran artist Jeram Patel titled 'the dark loam: between memory and membrane'. Sadly, Jeram Patel passed away this year in January when the museum was in the midst of preparation for this very exhibition. This is the last exhibition of the trilogy of retrospectives that examines abstraction in Indian art from the early post-Independence period. We began with Nasreen Mohamedi's 'a view to infinity' (2013), then presented Himmat Shah's 'hammer on the square' (January - July 2016) and now Jeram Patel (August 2016). The trilogy emphasizes different individual trajectories of abstraction, through a large corpus of works, allowing viewers to examine their singular practice and their contribution in the shaping of Modern Indian art in the 1960s-70s. While Nasreen never affiliated herself to any group and worked in complete solitude in her studio/home, Jeram and Himmat were founder members of Group 1890 along with ideologue J. Swaminathan and other fellow artists- Gulammohammed Sheikh, Ambadas, Jyoti Bhatt, Rajesh Mehra, Eric Bowen, Raghav Kaneria, Redeppa Naidu, S.G. Nikam. The Group did not last beyond their first group exhibition. The manifesto written by Mexican poet Octavio Paz in 1963 emphasized their belief in 'the reality of an image rather than the image of reality'. The image in Himmat and Jeram is abstracted, excavated or assembled into a composite form. Though their language of abstraction evolved its own syntax and vocabulary, the series of exhibitions highlight the possible points of crisscrossing and connections that can be drawn between their preoccupations and manifested forms. Their distinct ways of responding to the world does not fit into any preceding style or group. Drawing remained of primary importance to all the three artists, using pen and ink as well as graphite, relying heavily on the mystery of the monochromatic image.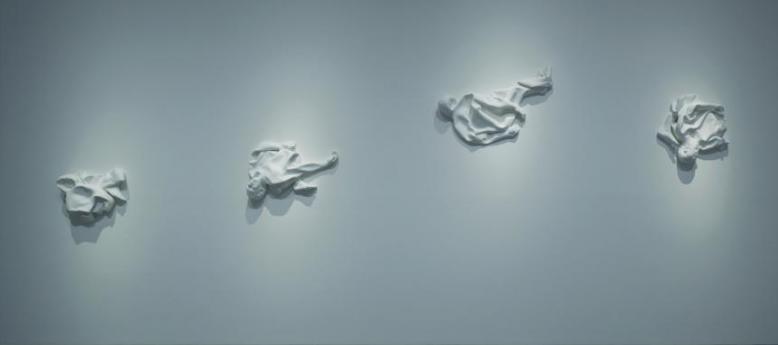 Participating Artists
A. Balasubramanyan, A. Ramachandran, Adeela Suleman, Akbar Padamsee, Anish Kapoor, Anju Dodiya, Arpita Singh, Ashim Purakayastha, Atul Bhalla, Atul Dodiya, Bharti Kher, Bhupen Khakhar, Bikash Bhattacharjee, F.N. Souza, G.R. Iranna, Ganesh Pyne, Gulammohammed Sheikh, Himmat Shah, Jamini Roy, Jitish Kallat, Jogen Chowdhury, K.G. Subramanyan, K.H. Ara, Krishen Khanna, M.F. Husain, Manjit Bawa, Manjunath Kamath, Meera Mukherjee, Mrinalini Mukherjee, N.S. Harsha, Nalini Malani, Nilima Sheikh, Pooja Iranna, Ram Kumar, Rameshwar Broota, Ramkinkar Baij, Ranjani Shettar, Raqib Shaw, Ravinder Reddy, S.H. Raza, Sovan Kumar, Subodh Gupta, Sudarshan Shetty, Sudhir Patwardhan, Surekha, Surendran Nair, Tyeb Mehta. V.S. Gaitonde, Vishal K. Dar, Vivek Vilasini
KNMA inaugurates its second museum space in Saket, New Delhi with the exhibition 'Time Unfolded'. This exhibition highlights historically marked moments and trajectories of Indian Modern and Contemporary art practice. It showcases artworks of fifty artists, manifesting their ruminations and reflections on the multiple passages of time, sifting through the fluid and slippery boundaries of the past and the future while encountering the present. The display in each of the galleries is based on a theme or a historical narrative, located within the seamless field of the modern and contemporary.
The exhibition opens with a sharp juxtaposition of contemporary Indian artist Bharti Kher's life-size fiberglass sculpture of an elephant Skin Speaks a language Not its Own and the modern master V. S. Gaitonde's abstract painting. The first section titled 'Engaging the Local' focuses on the regional category 'Bengal' as the center of cultural fermentation and Modernism in pre-independence Indian art. Based on the evolving modernist language for the new nation, the second section 'Defining the Modern'– Bombay Progressives includes works of the extended Progressive Artists' Group highlighting the growing drive towards abstraction. The third thematic titled 'The Body: Corporeal to Ethereal' deals with the body as the bearer of personal, social and political inscriptions. The next section 'Perspectives on the Diaspora' presents works of two Indian diaspora artists, Raqib Shaw and Anish Kapoor, voicing their global artistic visions. The last thematic 'Visual Culture and Art' draws upon the popular imagery that the artist excavates from various sources using popular imagination, traditional myths and Western and Indian art history.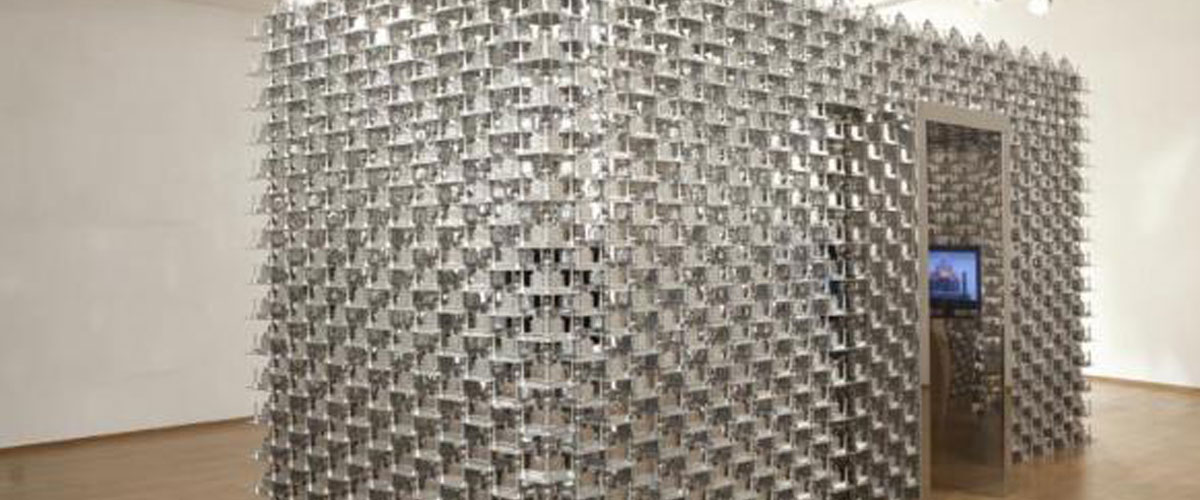 Participating Artists
Adeela Suleman, Akbar Padamsee, Anish Kapoor, Arpana Caur, Atul Dodiya, Avinash Chandra, Bharti Kher, Bhupen Khakhar, Dayanita Singh, F.N. Souza, Gulammohammed Sheikh, Himmat Shah, H.A. Gade, Jeram Patel, Krishen Khanna, L.N. Tallur, M.F. Husain, Manjit Bawa, Mithu Sen, Mrinalini Mukherjee, Nasreen Mohammedi, Ram Kumar, Rameshwar Broota, Ranjani Shettar, Ranbir Kaleka, Ravinder Reddy, Rina Banerjee, Shazia Sikander, S.H. Raza, Somnath Hore, Subodh Gupta, Sudhir Patwardhan, Sudarshan Shetty, Surendran Nair, Tyeb Mehta, Vivan Sundaram, V.S. Gaitonde, Zarina Hashmi
'Crossings' plays on the paradox of permanence and transience. In concept, it engages the contemporary through the constant experience of radical disjunctions, the precariousness of positioning, questioning the stability of spatial and temporal realities. By design, the juxtaposed artworks do not align strictly with a single vision but open up familiar and disparate fields, highlighting shifts and intersections in the making of visual languages and vocabularies. Crossing the line of chronology, the exhibition intends to create room for imaginary conversations and unexpected togetherness between art across generations. Inconsistent and forever elusive, the fuzzy terrain of contemporary art, is a provocation for proposing multiple perspectives and contexts.
Pages